Cain eyeing another 200-inning season
Cain eyeing another 200-inning season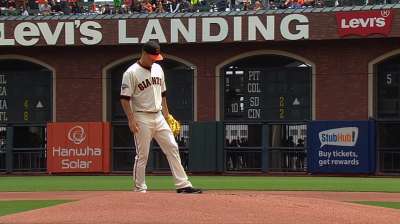 WASHINGTON -- Giants right-hander Matt Cain has a strong chance to maintain his streak of 200-inning seasons. But a few factors must work in his favor.
Cain, who has pitched 146 innings this season, has reached or exceeded the 200-inning mark for six consecutive years. The only other pitchers to build such streaks since the franchise moved to San Francisco in 1958 are Hall of Famers Juan Marichal (10 in a row, 1962-71) and Gaylord Perry (six, 1966-71).
Cain, who has made 24 starts, has averaged slightly more than six innings per outing. Whether he reaches 200 innings could depend on the number of starts he makes through the rest of the season. Barring weather-induced postponements, Cain could receive as many as nine more starts. If he makes eight more starts, he obviously must pitch deeper into each game to amass 200 innings.
The 200-inning plateau remains meaningful to Cain.
"It says that you're durable," he said.
But, he added, "That's not my main goal. My main goal is to finish the season and keep throwing the ball well."
By accomplishing that, totaling 200 innings should be a byproduct.
"You're always pushing to get 200 innings," said Cain, a three-time National League All-Star. "You want to go out there for as long as you can, but sometimes the game doesn't let you do that. It's [a matter of] trying to give your team a chance to win. If [pitching 200 innings] happens, it happens."
Chris Haft is a reporter for MLB.com. This story was not subject to the approval of Major League Baseball or its clubs.