Porter looking for confidence from young Astros
Porter looking for confidence from young Astros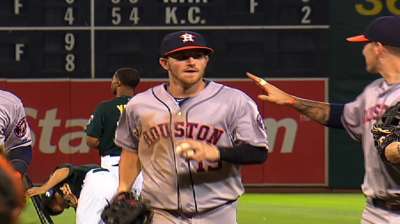 OAKLAND -- Jarred Cosart showed up to the ballpark prior to his start on Wednesday and told pitching coach Doug Brocail the Astros were going to be able to wear jeans on their trip to Anaheim on Friday -- something manager Bo Porter only allows his players to do when they win a series.
Cosart went out and threw six scoreless innings as the Astros wound up winning in 11 innings against the A's to win their first series in two months, but Cosart's confidence is exactly what Porter wants to see from his young club.
"That lets you know the mentality is starting to sink in," he said. "In his mind, he knows he's going to win this game and we're going to be able to wear jeans."
The Astros typically have to wear dress pants and jackets when they travel on the road. After they won the first game of a series in Tampa on July 12, second baseman Jose Altuve asked Porter if they could wear jeans if they won the series. Porter said yes.
"We win Game 1 and lose the second game, and so the third game I was very interested to see who was going to show up in jeans [prior to the third game]," said Porter, hoping his team would show up with confidence they would win the series. "Needless to say, they didn't show up in jeans. I was highly disappointed and I let the whole group know."
Porter held a meeting following the All-Star break and recited a story he was told by former Chicago Bulls guard B.J. Armstrong, a friend of Porter's. Armstrong had told Porter a story about when Michael Jordan didn't pack a suitcase for a playoff road trip after the Bulls had gone up 3-2 in a series and were hitting the road during one of their playoff runs.
"The equipment guys can't find Michael Jordan's suitcase," Porter said. "Michael Jordan didn't have a suitcase. He said, 'I'm going to Portland for one night and all I need are the clothes I have on.' He grabbed the microphone on the bus and said 'Anybody that packed a suitcase you probably want to get off the bus. That means you plan on staying for more than one night.'
"They won the championship and came home. I told them that story. It shows the power of the mind and you have to believe you're going to get it done."
Brian McTaggart is a reporter for MLB.com and writes an MLBlog, Tag's Lines. Follow @brianmctaggart on Twitter. This story was not subject to the approval of Major League Baseball or its clubs.