Refreshed and relaxed, Storen returns to Nationals
Refreshed and relaxed, Storen returns to Nationals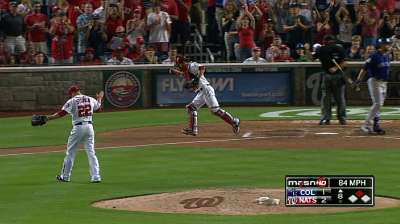 WASHINGTON -- Less than three weeks after he was demoted to Triple-A Syracuse, Drew Storen returned to Nationals Park on Thursday with a clear mind and more athletic delivery. The Nationals recalled the 26-year-old former closer from Triple-A and sent down Ryan Mattheus, who has struggled since returning from a broken hand.
Storen said he spent a lot of time at Triple-A working on his mechanics, which included scrapping his stiff-leg delivery and returning to a more conventional high-leg kick. He also said the Minor League stint helped him clear his head and stop overthinking his mechanics.
"This is kind of like Opening Day for me right now," Storen said. "I can't really control or change what's happened this year, but one thing I can do is really be productive at the end and help these guys win. So I'm excited to get back. I'm pretty damn happy about it, to be honest with you."
Storen was optioned to Triple-A on July 26 after pitching with the flu and surrendering three runs in the first game of a doubleheader against the Mets. He had a 13.03 ERA in July and a 5.95 ERA this season. Manager Davey Johnson wanted Storen to work on his mechanics, speed up his time to the plate and regain his confidence.
In six games with Syracuse, Storen said he improved in all three areas. He returned to the conventional bent-leg delivery he used at Stanford, which he said also helps him get to the plate faster.
"It was good to get back to throwing athletically and not having to think about it so much," Storen said. "I was getting to the point where I was thinking a little bit too much about what I needed to do mechanically instead of just lifting and throwing and throwing strikes and attacking the hitters. So it was good to make that adjustment and I'm ready to go."
Storen pitched 2 1/3 spotless innings with four strikeouts in his last three appearances at Triple-A. Johnson watched Storen's first two outings and liked what he saw. He said Storen's new mechanics have also led to a more relaxed approach on the mound.
"Drew has the tendency to overthink things. Even with the stiff-leg move, he saved 43 games," Johnson said. "But I do think it frees him up and there will be less tension. He has a tendency to grip it with a death grip on it. I think that's going to ease up."
After Mattheus allowed two earned runs without retiring a single batter Wednesday night, Johnson said he needs Storen to do what Mattheus could not and serve as a stopper in the middle and late innings. Since punching a locker and breaking his right hand, Mattheus has a 9.45 ERA in nine appearances.
"I just think he's just not using all his pitches, not working his pitches," Johnson said. "I mean, he's going to be back soon; I need him back. This is the best way to get them both fixed."
Storen said his time in Triple-A gave him a new appreciation for pitching in the Major Leagues. He also thanked family and friends, like teammate Tyler Clippard, who helped him get through the ordeal. Clippard publicly criticized the Nationals organization for their handling of the situation after Storen was demoted.
"What he said, regardless of what you think of the comments, just for him to stand up for me like that really means a lot and shows you what a great friend and even better teammate he is," Storen said. "It takes a lot. It meant a lot to me, I know."
The past two seasons have been a roller-coaster ride for Storen, who saved 43 games in 2011, had elbow surgery in 2012, blew a save in Game 5 of last year's National League Division Series and battled his mechanics all season. He said he's excited to put all of that behind him.
"There's nothing you can do to change any of it, good or bad," Storen said, "so you just look forward and take what's in front of you and keep going and make the most of it."
Jason Mastrodonato is a reporter for MLB.com. Follow him on Twitter @jmastrodonato. Andrew Simon is a reporter for MLB.com. Tom Schad is an associate reporter for MLB.com. Follow him on Twitter @Tom_Schad. This story was not subject to the approval of Major League Baseball or its clubs.