Buehrle earns win after Blue Jays rally vs. Red Sox
Buehrle earns win after Blue Jays rally vs. Red Sox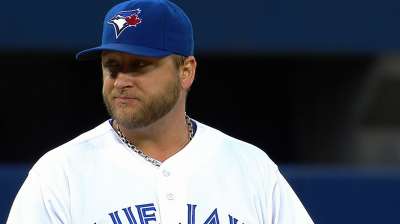 TORONTO -- Mark Buehrle's disappointing start to the 2013 season has become a distant memory as the veteran left-hander continues to inch closer and closer to his career norms.
The first seven starts this year for Buehrle couldn't have been much worse, and they left the 14-year veteran with a 7.02 ERA on May 6. Since then, though, there has been a remarkable turnaround that has resulted in Buehrle arguably establishing himself as the Blue Jays' most valuable pitcher.
Buehrle showed no signs of slowing down on Thursday night as he navigated his way through a series of difficult situations and allowed just one run over seven strong innings in a 2-1 victory over the Red Sox at Rogers Centre.
"I'm just trying to get on a roll right now," said Buehrle, who improved to 9-7 with the win. "I don't care if we're out of the playoffs, or in the playoffs, if we're in the thick of it, I go out there and try to win every start. No matter what the situation is, I'm going out there trying to compete and trying to win."
There were plenty of questions earlier in the season about whether Buehrle still had what it took to compete in the tough American League East. He had spent the past year in the National League, and the line of thinking was that his lack of velocity would be better suited in a league that was less known for its offensive prowess.
Those doubts have since been erased, and Buehrle remains one of just a select few on the Blue Jays' roster to have met, or exceeded, expectations this year. He has 13 quality starts to his credit, and the ERA -- which currently sits at 4.29 -- continues to make its way closer to his career mark of 3.85.
The numbers at Rogers Centre have been even more impressive. While most of the Blue Jays' starters have struggled at home, Buehrle has been a consistent performer. He has allowed three runs or less in nine consecutive home outings while posting a 6-1 record and 1.94 ERA.
"He's going to give up his singles and his knocks from time to time throughout the course of the game, but he finds a way to bear down and get himself out of jams and really keep us in the ballgame," utility man Mark DeRosa said.
Pitching out of jams was the key for Buehrle on a night when he didn't have his best stuff against the Red Sox. He stranded two men in the first, a bases-loaded situation in the second and another spot in the sixth when Boston had runners on first and third with nobody out.
Buehrle found a way to maneuver out of each tricky spot, and the only Red Sox run scored when Jacoby Ellsbury hit into a fielder's choice in the fourth, which allowed Daniel Nava to cross the plate. Boston went just 2-for-10 with runners in scoring position vs. Buehrle and left 12 men on base.
At times it wasn't pretty, but Buehrle did enough to get the job done and gave his offense enough time to start a rally of its own.
"The story is men left on base, we created a number opportunities," Red Sox manager John Farrell said. "I thought we had a very good approach against Buehrle to build on those opportunities, and then he made a number of quality pitches with men in scoring position ... That two-out base hit or base hit with men on base was elusive again tonight."
Boston had trouble taking advantage of its scoring opportunities, but the Blue Jays experienced difficulty even putting anyone on base for most of the game. Right-hander Jake Peavy -- Buehrle's former teammate with the White Sox -- was cruising for most of his outing and faced just two batters over the minimum through six innings.
That streak of success changed in the seventh, when Jose Bautista led off the inning with a single just under the glove of Boston third baseman Will Middlebrooks. Edwin Encarnacion and Brett Lawrie promptly followed with a pair of singles which tied the score at 1 and chased Peavy from the game.
Pinch-hitter DeRosa then came through with a deep sacrifice fly to center field off left-hander Craig Breslow as Toronto took the lead for good. Peavy was stuck with a tough loss despite allowing just those two runs on five hits while striking out four.
"My mindset was that I'm facing a guy that struck me out the night before, pounded me in that whole at-bat, so I kind of figured he was going to approach me the same way, and he did," DeRosa said of facing Breslow. "This time, they were balls instead of strikes early in the count, I was able to work myself into a good hitter's count, just trying to hit a fly ball to the outfield to give us the lead."
The Blue Jays' seven-game homestand came to an end with a 3-4 record vs. Oakland and Boston. Toronto has won two of its past three series and now embarks on a lengthy road trip to face Tampa Bay, the Yankees and Houston that will see the club play 10 games in 10 days.
Gregor Chisholm is a reporter for MLB.com. Read his blog, North of the Border, and follow him on Twitter @gregorMLB. This story was not subject to the approval of Major League Baseball or its clubs.