JJ's initial MRI reveals forearm strain, no tear
JJ's initial MRI reveals forearm strain, no tear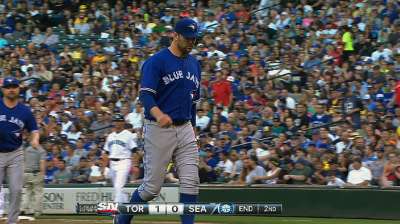 TORONTO -- Josh Johnson's season may be in jeopardy, but he got some good news on Thursday.
Johnson's MRI results indicated that the discomfort in his throwing arm was simply a forearm strain.
The tall right-hander has been sidelined with the injury the past couple of days. He aggravated it while playing catch prior to Tuesday's game vs. the Red Sox, and was placed on the 15-day DL the following day.
The results are good news for the pending free agent, who had Tommy John surgery back in 2007 while a member of the Marlins. With there being no tear, Johnson, at worst, would be available to pitch next season and avoid surgery.
The 29-year-old has no concerns that this injury was more serious than the club and he originally thought.
"No. It's kind of exactly where it was," Johnson said when asked if he had any concerns. "Kind of away from all the repair and everything [from 2007]. Never felt anything in there."
However, that doesn't mean Johnson is fully out of the woods. As a precaution, the Blue Jays are sending his MRI results to Dr. James Andrews to make sure he and the Blue Jays' doctors have the same opinion.
"I think they do that almost every time," Johnson said. "Just to get another set of eyes on it, especially his. He's been around and knows a lot about the elbow."
Andrews is a renowned specialist when it comes to pitching injuries, and should be well acquainted with Johnson's arm having performed his surgery.
While Toronto awaits the second diagnosis, Johnson will follow the team to Florida for their three-game set with the Rays.
Evan Peaslee is an associate reporter for MLB.com. Follow him on Twitter at @EvanPeaslee. This story was not subject to the approval of Major League Baseball or its clubs.