Peavy finds late trouble as Red Sox fall in Toronto
Peavy finds late trouble as Red Sox fall in Toronto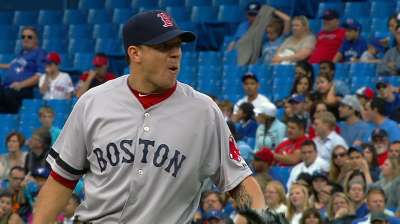 TORONTO -- When you have an offensive attack that produces 11 hits, you shouldn't be involved in a pitchers' duel. But that's exactly what happened to the Red Sox on Thursday night at Rogers Centre, as missed opportunities with runners on base proved to be costly in a 2-1 loss to the Blue Jays.
Jake Peavy tried his best to carry Boston on getaway night of this 10-game, three-city road trip. Over six-plus innings, the righty gave up five hits and two runs, walking none and striking out four.
The Boston bats, however, went 2-for-11 with runners in scoring position and left 12 on base.
"Tonight the story is left on base," said Red Sox manager John Farrell. "We created a number opportunities. I thought we had a very good approach against [Mark] Buehrle to build on those opportunities, and then he made a number of quality pitches with men in scoring position. That two-out base hit or base hit with men on base was elusive again tonight. I thought Jake threw the ball well."
It was a fitting end to a frustrating 4-6 road trip. The Red Sox, who have lost four of their last five, head home for a three-game rivalry series against the Yankees leading Tampa Bay by two games in the American League East.
"We feel good about ourselves," said Dustin Pedroia. "We're in first place. This is a confident team. Forget about this one and get ready for tomorrow. Try to get some sleep and get out there and play."
Peavy had a 1-0 lead on Thursday night and took a two-hitter into the seventh.
But everything seemed to change as the bottom of the seventh began, when Jose Bautista hit a hard grounder that went off the glove of third baseman Will Middlebrooks. It was originally ruled an error, but later changed to a hit.
"Well, it's a hard-hit ball right at him," Farrell said. "That started that seventh inning. Typically that's a play that should be made. Unfortunately, it wasn't."
Middlebrooks will take his chances with that same play next time.
"It's a hard-hit ball," Middlebrooks said. "I'd like to think I'd make that play most of the time. No excuse. The ball is hit hard and it's within glove length, quick off the carpet. I've got to make that play for Peav. Like I said, especially off the carpet here, it's really quick. He hit it on the screws, too. It hit my glove, and I feel like if the ball hits my glove, I should make a play."
Edwin Encarnacion followed with a single to center. Brett Lawrie's lined single up the middle brought home Bautista to tie the game. That was all for Peavy.
"Just a bad pitch up to Lawrie," said Peavy. "Got to execute better there with him. I know he's been hot, and just like I said, I take full responsibility. It was the wrong pitch to throw, and even at that, it wasn't executed well. They made the most of that inning."
On came lefty Crag Breslow, and he gave up a go-ahead sacrifice fly to deep center by pinch-hitter Mark DeRosa.
In the top of the sixth, the Sox had a golden opportunity to increase their lead when singles by Stephen Drew and Ryan Lavarnway put runners at the corners with nobody out. Buehrle buckled down at that point, striking out Daniel Nava and Middlebrooks, and getting Jacoby Ellsbury on a grounder to third.
"That's typical Mark Buehrle, " said Peavy about his former White Sox teammate. "You know what you're going to get, he's going to battle. Go seven, give up 10 hits. Not a whole lot of people can do it that way. Leave 10 guys out there over seven innings. He's a competitor and he made some pitches when he had to. He's going to battle and give you a chance to win. It's just tough coming out on the losing end."
There was another chance for Boston in the eighth, as Daniel Nava (double) and Middlebrooks (walk) started a two-out rally. But Darren Oliver, the crafty veteran, struck out Ellsbury on a pitch in the dirt.
"Yeah, we had a ton of opportunities to score and we just couldn't get that one big hit," said Pedroia. "That's basically it. The pitching staff did a great job. We have to swing the bats better with guys on, things like that."
Perhaps the tone of utter frustration was set early for the Red Sox, as Pedroia was thrown out the plate by Kevin Pillar in the top of the first, trying to score on a single to left by Jonny Gomes.
Pedroia, fooled by catcher J.P. Arencibia's positioning, never slid.
"Just weird," Pedroia said. "J.P. didn't move, so I was trying to let the ball hit me. Usually when you slide, you go on the other side. He stayed on that side, so I thought the ball was tailing, and it never hit me and he didn't move, so I didn't know what to do. It was kind of an awkward deal. I don't know. I should have tried to slide or go through him or do something."
When the Red Sox broke the scoreless stalemate between Peavy and Buehrle, it was on a fielder's choice grounder by Ellsbury that drove Nava in from third in the top of the fourth. If Munenori Kawasaki had made a slightly better feed to shortstop Jose Reyes, there's a chance it could have been an inning-ending double play. Middlebrooks also deserved credit for a hard takeout slide into second.
The Red Sox had 10 hits through the first seven innings, but had just the 1-0 lead to show for it.
Almost predictably, it wasn't enough.
"How Buehrle was throwing, when you get that opportunity, you need to take advantage of it," Middlebrooks said. "It's always tough to leave those guys out there, especially more than once."
Ian Browne is a reporter for MLB.com. Read his blog, Brownie Points, and follow him on Twitter @IanMBrowne. This story was not subject to the approval of Major League Baseball or its clubs.