Blue Jays recall Gose to add to outfield depth
Blue Jays recall Gose to add to outfield depth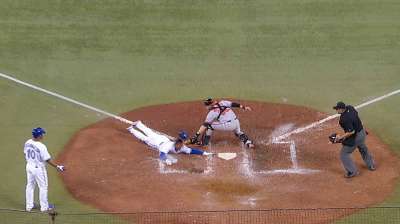 TORONTO -- The Blue Jays recalled Anthony Gose from Triple-A Buffalo following Thursday night's 2-1 victory over the Red Sox.
With Emilio Bonifacio's departure to Kansas City and Colby Rasmus on the DL, the Blue Jays were fielding a roster with only three outfielders and nine relievers, so the move comes as no surprise.
Gose is expected to share duties in center field with Rajai Davis, and hit against righties.
The speedy 23-year-old Gose was batting .239 with a .316 on-base percentage, three home runs, 27 RBIs, 64 runs scored, and 22 stolen bases in 35 tries for Buffalo. He hit .304 in 26 plate appearances earlier this season for the Blue Jays, and is a career .233 hitter in 69 games in the Major Leagues.
Mickey Storey was sent down to Buffalo to make room for Gose, the righty having pitched only one-third of an inning since joining the club last Saturday.
Evan Peaslee is an associate reporter for MLB.com. Follow him on Twitter at @EvanPeaslee. This story was not subject to the approval of Major League Baseball or its clubs.