Napoli gets planned break from starting lineup
Napoli gets planned break from starting lineup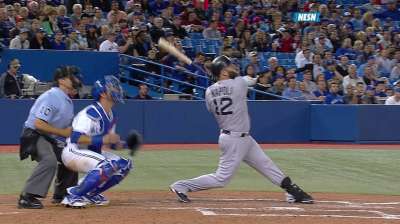 TORONTO -- A day after he belted a game-tying homer with two outs in the ninth, Mike Napoli found himself on the bench for Thursday's game against Blue Jays lefty Mark Buehrle.
It turns out manager John Farrell had already planned for Napoli to have the night off, and decided to stick with the schedule. Napoli has slumped mightily in recent weeks, but perhaps the homer is a sign that he could snap out of it soon.
"The decision was made for this to be a down day for him," Farrell said. "We're going to get in at 3 in the morning. We've got another left-hander in [Andy] Pettitte on the mound against us tomorrow night. And we're just trying to balance the schedule. We've got a challenging 10 days ahead of us, and just trying to keep everyone involved as best we can and find matchups where it might make the most sense."
Daniel Nava got the start at first in place of Napoli. Farrell indicated Tuesday that Nava and Mike Carp could start to be mixed in more often at first base, depending on matchups.
Nava just learned how to play first base in Spring Training, but has adapted nicely.
"Much more comfortable. I'm still learning on the job," said Nava. "Fortunately, I have [Brian] Butterfield and the infield instruction, and advanced understanding of where every ball is going to be hit. I don't have to worry about anything. It helps, though, knowing that we are prepared. It helps knowing that I have guys around the corner or on the other side of the field that are in the right spots."
Ian Browne is a reporter for MLB.com. Read his blog, Brownie Points, and follow him on Twitter @IanMBrowne. This story was not subject to the approval of Major League Baseball or its clubs.