Holliday's walk-off wins series vs. Bucs
Holliday's walk-off wins series vs. Bucs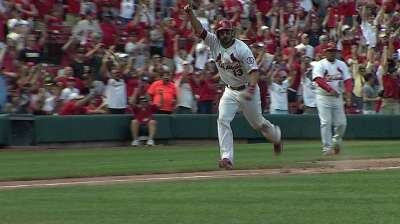 ST. LOUIS -- It took 35 innings, 10 hours and 36 minutes, but the Cardinals finally pulled off a series victory over the Pirates.
And, again, the win came in dramatic fashion, as the Cardinals took the rubber game with a second walk-off win in three days, beating the division-leading Pirates, 6-5, before 41,502 fans at Busch Stadium on Thursday.
"Any chance you get to beat a team you're chasing, it's a big deal," said Matt Carpenter, who reached base five times and scored the winning run. "So to be able to win that, and especially in the fashion that we did, two walk-off wins and extra innings, was a lot of fun. We needed that, and hopefully we can keep this momentum going."
With the game tied in the 12th, Carpenter worked a leadoff walk and went first to third on a single by Jon Jay. Matt Holliday brought Carpenter home with a one-out single to seal the Cardinals' third walk-off victory of the season.
Coming off a 5-13 stretch before this series, the Cardinals were optimistic Tuesday's 14-inning walk-off win could be exactly what they needed to flip their fortunes, yet the Pirates knocked the wind out of any momentum with a 5-1 win on Wednesday. Now, the Cardinals are hoping two is the charm.
"We haven't been able to do that that well this year," Holliday said of the lack of walk-off wins. "If we get a couple of them, hopefully that's a trend."
The Cardinals entered the series three games back in the National League Central, with Cincinnati looming not far behind. With the win, they pulled to within two games of the Pirates, who took four of five games from St. Louis three weeks ago.
"I mean, there's no question that there's some extra that plays into this," manager Mike Matheny said. "We talked about that before the series started, we wanted to play different than how we did in Pittsburgh. I think the guys played hard, they really did. Any time having a walk-off win it's a big deal, and having one in this series is a big deal."
The Cardinals' 12th inning was manufactured entirely by three players who have come up big in the second half. Carpenter, who started it, recorded his Major League-leading 48th multi-hit game of the season and fell a home run short of the cycle, going 4-for-5 with two runs and an RBI. Jay then singled to give him 23 hits this month with 15 games remaining in August, and Holliday wrapped it up with his seventh career walk-off hit, extending his hitting streak to 12 games.
Holliday has reached base in each of the 20 games following his return from the disabled list and is batting .429 (21-for-49) this month. The left-fielder stopped short of attributing the time off to his recent success.
"It's hard to say, but you get 10 days where there's no activity in the middle of the season, it can help your body," he said. "I was swinging the bat, I felt like, pretty well before I went on the DL, but usually it's probably good for your body."
For four innings, Lance Lynn and A.J. Burnett were hardly bending. In the fifth, they both broke, Burnett more so than Lynn as the Cardinals chased the Pirates starter from the game with five runs.
The Pirates put up a four-spot against Lynn with a single, double, triple and a two-run homer, a 393-foot blast from Clint Barmes, but the Cardinals topped it by hammering Burnett with six hits in the first seven batters, capped by Holliday's go-ahead double.
Pittsburgh pulled Burnett after Holliday's line drive to left that scored Jay, and reliever Vin Mazzaro put a stop to the run, although both Allen Craig and Yadier Molina nearly had hits on a pair of hard-hit balls.
Burnett had surrendered only three earned runs and nine hits in 20 innings against the Cardinals this season before yielding five earned on eight hits in 4 1/3 innings on Thursday.
"When you get into those middle innings, they have a look at what he's got that particular day and are able to do things a little different," Matheny said. "He was rolling there, didn't have many pitches, he came out and our guys just started taking advantage of what they saw in their first at-bats."
"They fought off some good pitches, and were able to hit the ones after that," Burnett said. "As good as it looked earlier, it's never easy against this group, and they figured me out early."
Lynn didn't last much longer Burnett -- he was pulled one out into the sixth -- leaving after allowing four earned runs on five hits and one walk with six strikeouts.
"It was one of those days where I probably wasn't as sharp as I would have liked," Lynn said. "I gave up five more runs than I would have liked, more hits than I would have liked, but the offense came and bailed me out."
Setup man Trevor Rosenthal let the Pirates back into it, serving up a solo shot to Russell Martin in the eighth and ending the St. Louis bullpen's streak of 11 2/3 scoreless innings.
Seth Maness, who recorded his first Major League hit, struck out Barmes with runners on second and third to end the sixth, and Randy Choate struck out Pedro Alvarez with a man on in the seventh.
The Pirates homered six times in the three-game set. They have out-homered Cardinals, 15-3, in their 13 games this season, in which Pittsburgh is 8-5.
"I want you [reporters] to talk about that, because the last time you did we had like six in two days," Matheny joked. "Can't wait for tomorrow."
Chad Thornburg is an associate reporter for MLB.com. This story was not subject to the approval of Major League Baseball or its clubs.