Newfound lineup protection gives Cano boost
Newfound lineup protection gives Cano boost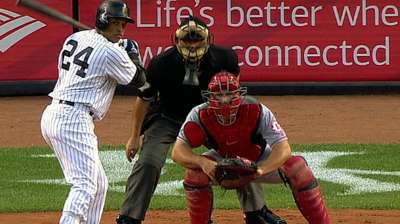 NEW YORK -- The last two games provided the offensive performances the Yankees were hoping for when they acquired Alfonso Soriano and got Alex Rodriguez back in the lineup. The addition of both bolstered what had been a lackluster middle of the order.
Perhaps no one has benefited as much as Robinson Cano. He has protection in the order and is finally getting pitches to hit.
"You can tell the last two games," Cano said. "When you have those guys -- guys that hit homers, guys that have been in the game a long time, guys that got good numbers -- it makes a big difference in the lineup."
Cano went 4-for-4 with an RBI in Wednesday's 11-3 win over the Angels. He passed Phil Rizzuto for sole possession of 15th place on the Yankees' all-time hit list with his 1,589th hit in his third at-bat in the fourth inning.
In his last 11 plate appearances, Cano has reached base 10 times -- seven hits and three walks. During the Yankees' homestand, Cano is 10-for-20 with two doubles and three RBIs.
That's why it's impossible to overlook how much it's meant to have A-Rod and Soriano.
"This is the team that we are," Cano said. "In the past, we weren't getting on base, which is the difference the last two games. We get on base, and we've been finding men on bases, and him and A-Rod make a big difference for the lineup."
Soriano has hit two home runs in each of the last two games, becoming the first Yankee with back-to-back multihomer games since Jason Giambi in 2005.
Soriano also racked up 13 RBIs during the two-game surge, becoming one of only three Major League hitters since 1920 to have at least six RBIs in two straight games, joining the Brewers' Geoff Jenkins in 2001 and the Rangers' Rusty Greer in 1997.
"Just hope it continues. What he's done the past two days is special," Yankees manager Joe Girardi said. "He's a big bat, and hopefully it just really continues."
Rodriguez, too, is still a threat. On this homestand, Rodriguez is 5-for-20 with two doubles, a home run and four RBIs. He's 8-for-31 (.258) since returning to the team on Aug. 5.
The Yankees have won their last four games and have scored 25 runs in their last two, much of that success courtesy of the new-look heart of the lineup.
"When you're not winning, you're just trying to figure out what's wrong, what you have to do to win," Cano said. "But when you're winning, you just have fun. You don't have to figure out anything."
Josh Vitale is an associate reporter for MLB.com. Chris Iseman is an associate reporter for MLB.com. This story was not subject to the approval of Major League Baseball or its clubs.