In quality effort, Hughes outpitched by Wilson
In quality effort, Hughes outpitched by Wilson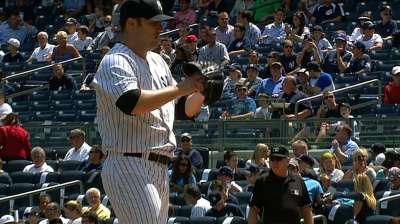 NEW YORK -- Phil Hughes will get the credit for the loss that ended the Yankees' four-game winning streak, but he likely doesn't deserve it.
After racking up 27 runs in their first three games against the Angels this week, the Yankees couldn't come up with the same big hits they got in Tuesday's and Wednesday's blowout wins.
Hughes posted a quality start on Thursday, but he didn't get much help from the offense or the bullpen. Former Yankee Chris Nelson hit two home runs -- including a grand slam in the eighth inning -- leading the Angels to an 8-4 win at Yankee Stadium.
"It was obviously better. It was hard to pitch much worse than I had been," Hughes said. "It felt like the results weren't exactly what I wanted, but I felt like I threw the ball OK. But at the end of the day it's a loss, which is not what we set out to accomplish today."
Coming off a five-start stretch in which he allowed 21 runs in 24 innings, Hughes threw six innings of three-run ball on Thursday. Designated hitter Josh Hamilton put the Angels on the board first with an RBI single in the game's opening frame, and they added two more in the third inning on catcher Hank Conger's sac fly and Nelson's solo home run.
Despite the loss, it was Hughes' best start in more than a month. The right-hander gave up six hits and struck out five on Thursday, notching his first quality start since July 2 and marking the first time he had pitched at least six innings since July 13.
"Overall, it's progress," Hughes said. "It's certainly not the way I'd like to progress; I'd like for it to kind of turn around quick. But it's a battle, and I'm going to keep doing whatever I can to stay on the right track."
The Yankees trailed the Angels, 3-1, when Hughes exited the game, their lone run coming yet another RBI hit from left fielder Alfonso Soriano. After a 4-for-5 day on Thursday, the hot-hitting veteran is 10-for-14 with four home runs and 14 RBIs over his last three games.
"Sometimes you have a good week," Soriano said. "I feel good at home plate. I'm seeing the ball good. I hope I continue hitting like this and help the team to win."
Soriano's efforts at the plate weren't enough on Thursday, though. The Yankees mustered just four runs despite 15 hits, batting 5-for-13 with runners in scoring position and leaving 12 men on base.
Angels' starter C.J. Wilson was able to limit the damage all afternoon, giving up one run while scattering 11 hits and one walk over 6 2/3 innings.
"It's just a matter of timely hitting," said right fielder Vernon Wells, who was 1-for-5 with a double and two RBIs. "Today wasn't a good day for it."
The big blow against the Yankees came in the eighth inning. Angels center fielder Mike Trout doubled off reliever Shawn Kelley led off the inning, but Boone Logan was able to retire Hamilton and shortstop Erick Aybar to bring first baseman Mark Trumbo to the plate with two outs. Logan intentionally walked Trumbo then walked Conger on eight pitches to bring up Nelson.
Nelson took the second pitch he saw from Logan and hit his first career grand slam into the seats in left field, extending the Angels' lead to six runs and getting the first multihomer game of his career.
"We're trying to keep the game close, and I let a guy like that hit a grand slam off me," Logan said. "I probably could have hit that slider I threw up to him."
Nelson -- who batted .222 with two RBIs in 10 games with the Yankees earlier this season -- batted .333 with two home runs, three walks and six RBIs over the four-game series against New York.
"It was just one of those days, man, really," Nelson said. "It just felt good and everything fell in place for me."
The Yankees added three runs in the bottom of the ninth on a RBI single from second baseman Robinson Cano and a two-run double from Wells.
The loss leaves the Yankees nine games back in the American League East race and six games back of the final AL Wild Card spot heading into a pivotal three-game series against the Red Sox in Boston this weekend.
"It's playoff baseball for us right now. I think the guys enjoy the challenge, I really do," manager Joe Girardi said. "They understand what we have to do. We have to win a lot of games, we have to win series and we have to play extremely well. I think our guys look forward to that. Baseball is meaningful for us. And it's very meaningful right now. As players, that's what you want."
Josh Vitale is an associate reporter for MLB.com. This story was not subject to the approval of Major League Baseball or its clubs.