Sisters step to plate in return of 'Bucks' to Philly
Sisters step to plate in return of 'Bucks' to Philly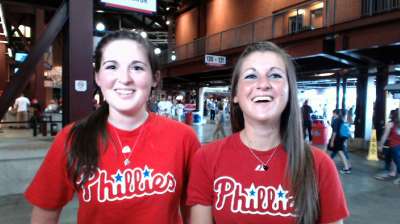 There is an important lesson for all Major League Baseball fans in the 58th overall episode of the hit MLB.com game show "Bucks on the Pond" powered by Ford.
When the time comes to hit the concession stands in your ballpark, be part of the experience. Please don't leave it up to your little sisters. Follow that wafting aroma of hot dogs, Southwestern black bean burgers, barbecue chicken nachos and homemade cinnamon sugar donuts, because you could win real cash to cover the whole ballpark outing.
After doling out $19,295 to fans at 24 of the 30 Major League ballparks, the "Bucks" crew was back at Citizens Bank Park in Philadelphia and firing concourse trivia questions at Melissa and Alannah Plebani of Langhorne, Pa. Their older sister, Stephanie, who had driven up from Virginia for the game, had opted to tend to their seats 20 rows back in right field.
"At a Phillies game a couple of years ago, I was interviewed for a segment on 'NBC Nightly News,' so before this game, my older sister joked that maybe I would get another 15 minutes of fame," Melissa said in an email to MLB.com. "She was right! Too bad she didn't come with Alannah and me to get food, which is when we were approached for 'Bucks on the Pond.' Or else she may have gotten her 15 minutes of fame with us. ... It was truly my favorite/best/most memorable ballpark moment ever."
"Our experience that day was exciting, yet unexpected," Alannah said. "We were not familiar with 'Bucks' prior to attending the game, but we both love trivia games, so we were excited to play. The Phillies ended up losing, but we had a great time, nonetheless. ... When we got home, we watched many of the videos on MLB.com/bucks. We are now so excited to see our video online. ... It was definitely the highlight of our night."
The game tickets were a gift to the three sisters from their parents, so we'll at least dedicate this episode to Stephanie, and now she can watch it like everyone else. "Bucks" is hosted by Jeremy Brisiel, and you might be a part of this season when you least expect it. Fans at the ballpark interact with MLB.com's studio through the magic of technology in conjunction with game action inside, and shows are released each Tuesday and Thursday.
Contestants are asked a trivia question -- general knowledge and baseball -- on each pitch during a half-inning of baseball. Get the question correct and win money. Get the question wrong and it's a strike. Three strikes and you're out.
The questions' difficulty and value increase with the number of outs in the on-field action: $5 easy questions to start, $10 medium-difficulty questions after one out, $20 hard questions after two outs. If the contestant lasts longer than the team's at-bat, they win the bucks in their bank.
Cross the $100 mark during the show, and that's where Frank Thomas comes into play. You can wager any part of your bank on that next question, which is asked each episode by the 2014 Hall of Fame candidate. Answer correctly and you win, answer incorrectly and you lose that amount ... and it's another strike.
"I thought there was some kind of catch," Melissa said. "And there wasn't."
Alannah, 20, is about to start her junior year at Holy Family University, where she majors in sociology with a minor in psychology. Melissa is 22 and graduated in 2012 from Penn State with a bachelor's degree in nursing. She is a nurse at Paoli (Pa.) Hospital.
"We try to go to as many games as possible, but it's sometimes hard due to our schedules," Alannah said. "When we're not at the games, we're always watching them on television. Stephanie drove up to come to the game with us. We are all huge Phillies fans and were excited to be going to the game together.
"Obviously, this season is not going how we would have hoped, but we just have to be positive and hope that the Phillies can turn things around next season. We will always support the Phillies through the good and bad times."
Of course, nothing can top what happened five years ago for Phillies fans. The sisters were right in the thick of it back then, and they hope to rediscover that same magic at some point soon.
"I remember watching the games in my dorm room at Penn State," Melissa recalled. "My roommate was a Yankees fan, so she was not thrilled that I essentially forced her to watch every Phillies playoff game. I remember after the Phillies won the World Series, I could hear Phillies fans celebrating in the streets at Penn State, but I could not join because I had a huge exam the next day. To this day, I still kind of regret my decision not to join the campus-wide party."
Alannah said her favorite memories from 2008 include "Brad Lidge's perfect season, Matt Stairs' pinch-hit go-ahead home run vs. the Dodgers in Game 4 of the National League Championship Series, Shane Victorino's grand slam off of CC Sabathia in Game 2 of the NL Division Series, Game 5 of the World Series against the Rays -- the infamous rain-suspended game -- and Lidge striking out Eric Hinske to win the World Series. And, of course, the parade down Broad Street."
Now you can see Alannah smiling as Melissa gets one answer right after another. "How did you know that?" Alannah asks incredulously.
In addition to the Phillies, teams visited by the "Bucks" crew include the Angels, Astros, Athletics, Brewers, Cardinals, Cubs, D-backs, Dodgers, Giants, Indians, Marlins, Mets, Orioles, Padres, Pirates, Red Sox, Reds, Rockies, Royals, Tigers, Twins, White Sox and Yankees. New scenery is on the way, too. Bookmark MLB.com/bucks and be on the lookout for the "Bucks" crew at your ballpark.
Mark Newman is enterprise editor of MLB.com. Read and join other baseball fans on his MLB.com community blog. This story was not subject to the approval of Major League Baseball or its clubs.