Miggy's injuries mounting along with big hits
Miggy's injuries mounting along with big hits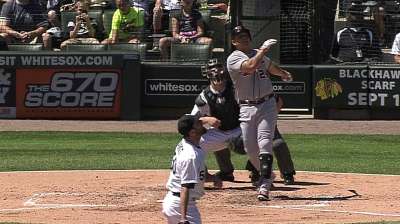 DETROIT -- Not only has Tigers slugger Miguel Cabrera been dealing with a lingering abdominal strain for the past month, but he has also been hobbled by a sore knee and shin since last weekend.
Cabrera injured both his knee and shin on foul balls in his at-bat on Friday against Yankees closer Mariano Rivera in the ninth inning, before hitting a game-tying two-run homer.
"His shin looked absolutely terrible, but from what I've gathered from the trainers it's the knee that's bothering him a little bit more than the shin," Tigers manager Jim Leyland said. "The stomach issue is getting better but still is a nuisance to him."
Despite multiple injuries, Cabrera had homered in five of his last six games. Entering Thursday, he led the Majors with a .360 batting average and 114 RBIs while trailing Baltimore's Chris Davis by six homers (44 to 38) in his quest of becoming the first player to win back-to-back Triple Crowns.
"He's banged up pretty good and how he's doing what he's doing, I have no idea," Leyland said. "I don't think I've ever seen anything like this."
While Leyland says he uses common sense when dealing with Cabrera's injuries, it's difficult to pull him late in games for a pinch-runner or defensive replacement because he's so valuable in the lineup.
"The other day we had a situation in Chicago where I didn't do it because if we had a rally going, he would have come up again," Leyland said. "Yesterday it worked out OK, because he hit in the ninth and I just put [Ramon] Santiago in [at third base] but it's a tough call."
Jason Beck is a reporter for MLB.com. Read Beck's Blog and follow him on Twitter @beckjason. Bobby Nightengale is an associate reporter for MLB.com. This story was not subject to the approval of Major League Baseball or its clubs.