Bonifacio makes Royals debut against Tigers
Bonifacio makes Royals debut against Tigers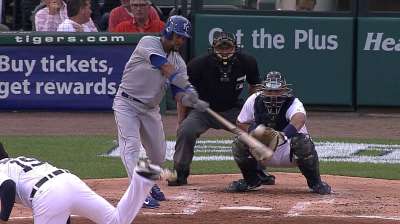 DETROIT -- Emilio Bonifacio went right into the Royals' lineup on Thursday night after being acquired from the Blue Jays the previous day. He started at third base and hit sixth against Tigers right-hander Anibal Sanchez.
"We like him better from the left side, so we'll use him primarily in those situations against right-handed pitching," manager Ned Yost said.
A switch-hitter, Bonifacio has hit right-handers at a .275 rate in his career compared to .255 against left-handers.
Bonifacio hit just .218 this year for Toronto although he's batted .273 over the last two months.
"I don't want to make an excuse, but I got hurt in May last year and I didn't play much until I got to Spring Training, so I think it took my timing a little while to get back," Bonifacio said.
He came from a Blue Jays team that was last in the American League East to a Royals team that still has postseason hopes.
"I was excited because I came to a team that was in the race for the playoffs," he said. "And I wasn't getting much playing time over there, so maybe here I can play more and help them out."
Bonifacio wore uniform No. 1 for Toronto, but that's assigned to Jarrod Dyson on the Royals so he had to pick another number. His choice gave him the highest number on the roster: 64.
"They told me the numbers they had available and I asked for it because it's the one I wear in the Dominican in winter ball," he said. "So even my little brother talked to me yesterday and said, 'Wear 64,' so I just decided to do it."
His brother is Jorge Bonifacio, a highly-regarded outfielder and the Royals' No. 5 prospect according to MLB.com who is with Double-A Northwest Arkansas.
"He called me right away, he was really excited," Emilio said.
Bonifacio singled in his first Royals at-bat in the 4-1 loss to the Tigers and performed well at third.
"I was really impressed," Yost said. "I thought he did a good job of playing third base -- a very nice, athletic third base. Swung the bat very well, got a base hit and smoked that last ball to the shortstop for an out. I was pleased with him."
Dick Kaegel is a reporter for MLB.com. This story was not subject to the approval of Major League Baseball or its clubs.