Guthrie, Royals take step back against Tigers
Guthrie, Royals take step back against Tigers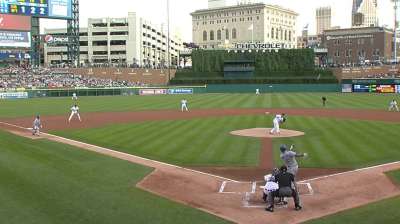 DETROIT -- Kansas City's burning ambitions flickered a bit on Thursday night.
The first-place Detroit Tigers opened a five-game series with a 4-1 victory that rewarded a partisan throng of 37,872 fans at Comerica Park. The loss pushed the Royals 8 1/2 games behind in the American League Central race.
"Every game's important now, especially in the Central Division when we're playing one of our opponents," said Alex Gordon, who drove in the Royals' only run.
There are still four games remaining in this vital series, but the Royals find themselves in a mini-spin. After losing just three times in a 20-game stretch, they've lost three in a row. Next to 17-3, the 0-3 looks pretty bleak.
This game began on an upbeat note for the Royals. The first inning against right-hander Anibal Sanchez opened with back-to-back singles by Chris Getz and Eric Hosmer, but Billy Butler grounded into a double play. Still, Gordon singled Getz home and the Royals had the lead.
"We had Sanchez early, we got his pitch count up in the first two innings," Royals manager Ned Yost said. "A clutch hit by Gordy in the first inning to give us the lead but we just couldn't do anything with him after that. And then he did what good pitchers do, he settled down."
Yep, just four hits after that and no runs.
Meanwhile, the Tigers surged back immediately against Royals starter Jeremy Guthrie with Prince Fielder's two-run homer in their half of the first.
Andy Dirks gave the Tigers' usual leadoff batter, Austin Jackson, the night off and that was a fortuitous move. Jackson was a mere 4-for-23 (.174) against Guthrie. But Dirks drilled Guthrie for four hits, scored twice, and is hitting .450 (9-for-20) against him.
Dirks opened the first inning with a single and, after two outs, Fielder sent a rocket soaring over the right-center wall. That was just one of a career-high 13 hits off Guthrie.
"They were tough all the way through the lineup, lot of base hits, lot of baserunners," Guthrie said. "Aside from the home run pitch, we had a chance. I think if we eliminate that one, the game's a little bit different."
The Tigers' other two runs came in the fifth inning. With a runner on, Dirks doubled down the right-field line. Torii Hunter singled to center for one run. Then Miguel Cabrera, who leads the AL in just about everything including fear and intimidation, hit a looper into center field and Jarrod Dyson broke back. That was the wrong way.
"Dice broke back like two steps," Yost said. "In Dyson's defense, anytime Cabrera takes a swing like that, your natural instinct is to break back. It just is. With any other player, it's not. But with Cabrera it is, and that's just kind of what happens. You just don't expect a little doinker in front of you."
The ball dropped a few feet in front of Dyson for a run-scoring single.
"I thought it was going to get out there to me and then I realized it wasn't. I screwed that play up big-time," Dyson said. "I came in and I said, 'Oh, it's going to get out here to me,' and that's why I stutter-stepped again and it never did. That's a ball that's got to be caught, no doubt about it."
Guthrie sought to soften the dismay for Dyson, who marked his 29th birthday on Thursday.
"It's a tough play, especially that part of the night when it's kind of that deep, dark blue up there," Guthrie said. "When he swings the bat, you assume it's going a long way and it's tough to get a break in on balls he hits like that."
The Tigers survived some baserunning blunders, including one by ex-Royals catcher Brayan Pena who rounded first base too far and was caught in a rundown. That took the punch out of a promising sixth inning.
Pena, filling in for Alex Avila who is out with a concussion, confessed that he just got overly excited.
"This is playoff baseball. That's the way we see it," Pena said. "We go out there and we play hard and play with a lot of heart too, and that says a lot about our team, it says a lot about our club. We just want to be out there and make a statement, and in my case I need a smarter statement, though."
Tigers manager Jim Leyland, as is his custom, favored the Royals with some kind words.
"They're just a really, really good team and they're playing very, very well," Leyland said. "But to be honest with you, I look at it like we have to play good and we have to win games, and it doesn't matter who you're playing. I mean, there's a little more significance in this series, I guess, but really you have to go win games. I don't put any blanket over a particular series. I just don't do that."
For the Royals, though, this is one series that they'd like wrap up in a blanket. Throughout their torrid play after the All-Star break, while they were putting together a 19-7 record, the Tigers cruised along at 18-7. There was no ground-gaining there so the Royals see this series as a head-to-head chance to finally cut into that lead.
"We need to win as many as we can here in the next four games," Guthrie said.
Dick Kaegel is a reporter for MLB.com. This story was not subject to the approval of Major League Baseball or its clubs.