Tigers roll KC behind Dirks' bat, Anibal's arm
Tigers roll KC behind Dirks' bat, Anibal's arm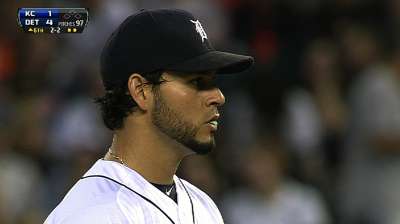 DETROIT -- Andy Dirks isn't going to take over the Tigers' leadoff spot. Not even a four-hit game in Thursday's 4-1 win over the Royals is going to do that.
Austin Jackson will be back atop the Tigers' batting order for Friday's day-night doubleheader, just where he has been for the past four years. What matters from here is whether Dirks can take what he did on Thursday and spark a late-season tear from the sixth spot.
That's where Jhonny Peralta's suspension a week-and-a-half ago created a void. That's where Dirks can be a solution.
"He sparked us tonight," manager Jim Leyland said.
Yes, the Tigers had other reasons behind their offensive rally. Prince Fielder hit his first home run since July 24, his second since the All-Star break and just his third homer at Comerica Park since May 10, and nullified the Royals' opening inning. Miguel Cabrera drove in his 115th run of the year with a bloop single in the sixth, extending his Major League lead over Baltimore's Chris Davis.
Detroit's fourth win in nine tries against the Royals this year stretched its division lead to 6 1/2 games over Cleveland, and 8 1/2 games over the Royals. With the teams playing four more games over the next three days, the Royals have plenty of chances left to make up ground.
If the Tigers are going to be at their most dangerous, they need more out of left field than what they've been getting. They need more out of the sixth spot in the order than what they've had since Peralta's suspension. At .234 (11-for-47) with two doubles, a home run and 5 RBIs, it isn't terrible, but it isn't what they had.
Even now, Leyland won't talk about Peralta's impact. He will, however, talk about the need for more balance in the lineup.
"That's huge, to get more guys going," Leyland said.
They haven't been getting production out of Dirks. On the day they moved him out of the sixth spot by necessity, he produced more hits than he had in his other six games combined this month. It was his second four-hit game of the year, matching his total from a win on May 5 in Houston.
That game got him going on a decent May before his production plummeted in June and July. Dirks knows August could be crucial for him.
He's not predicting this as a momentum-builder, not yet. He has been through that already this year. This time, however, Dirks hit four solid line drives.
"The thing is, you have to remember sometimes you'll get a hit and you're still not right," Dirks said. "You know when you're feeling good and when you're not. When you're not feeling good, you have to battle, and it feels like I've been battling almost all year. Sometimes it's pretty frustrating, but you just can't ever give up."
The Royals used up 30 pitches from Anibal Sanchez in a first inning that included two bloop singles, one from Alex Gordon for an RBI, and a two-out walk. By the time Sanchez took the mound for the second inning, he had a 2-1 lead to protect.
Leyland had been looking to give Jackson a day out of the lineup, and Jackson's 4-for-23 history against Jeremy Guthrie provided the opening. Dirks, 5-for-16 off Guthrie, moved up and promptly delivered a leadoff single before Fielder golfed a slider into the seats in right-center field.
"I've never really cared where I hit in the order," Dirks said. "I've approached the at-bats pretty much the same. I think it was more just happenstance that my swing was feeling better today."
Dirks' leadoff double in the third went to waste on a bizarre double play in which he was run down between second and third before Torii Hunter was thrown out at second. Dirks' one-out double down the right-field line in the fifth, by contrast, set up Hunter and Cabrera for back-to-back RBI singles.
"He swung the bat well," Guthrie said of Dirks. "I tried a few different pitches and he seemed to be swinging pretty well on all of them. That's what you get from the top of their lineup. They're all tough."
Cabrera's single marked his first RBI on something other than a home run since last Friday, when he singled in Jackson to open his hitting tear at Yankee Stadium.
Baserunning miscues arguably cost the Tigers a chance to add on, from the odd double-play rundown in the third inning to Brayan Pena overrunning first base in the sixth. The way Sanchez pitched rendered the outs on the basepaths moot.
Sanchez (11-7) rolled on from his 30-pitch opening inning to enter the seventh with just 98. He retired nine Royals in a row from the fifth inning into the eighth, when Eric Hosmer's one-out single finally chased him.
On a night when the bullpen needed a rest, Sanchez provided it, allowing seven hits over 7 1/3 innings with a walk and five strikeouts for his fourth win in as many decisions.
What Dirks did could mean more well beyond this game, or this series. He isn't declaring his swing back, but he's hoping.
Tonight I felt better," he said. "I'm just going to keep trying to build on it and go from there."
Jason Beck is a reporter for MLB.com. Read Beck's Blog and follow him on Twitter @beckjason. This story was not subject to the approval of Major League Baseball or its clubs.