Melvin earns fourth ejection of season
Melvin earns fourth ejection of season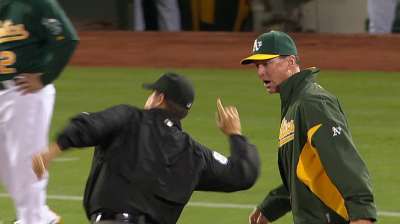 OAKLAND -- A's manager Bob Melvin was ejected from Wednesday night's 2-1 loss to the Astros after arguing a call with second-base umpire Doug Eddings after the third out of the eighth inning.
Melvin approached Eddings after Eric Sogard was called out at third on an attempt to tag from second base on Nate Freiman's fly ball to center field. Brandon Barnes' throw was ruled to beat Sogard, prompting a demonstrative protest by Sogard and Melvin's emergence from the home dugout.
"We got to make sure we're safe," Melvin said on Sogard's decision to tag up. "The debate is whether he was safe or not."
Equally questionable was Alberto Callaspo's attempt to bunt with Sogard on second once again with no one out in the 11th. Callaspo had failed his attempt to lay down a clean bunt earlier in the game, and he did so again in the 11th, popping up for the first out of the inning before Jed Lowrie and Josh Reddick struck out in consecutive at-bats to end the game.
"It just seemed like it was frustrating from the beginning and it got more frustrating as the game goes along," Melvin said. "You got to try to put that away and keep your wits about you. It's one of the more frustrating losses of the year."
The ejection was Melvin's fourth of the season and 29th in his managerial career.
Jeff Kirshman is an associate reporter for MLB.com. This story was not subject to the approval of Major League Baseball or its clubs.