Porter in favor of expanded use of replay
Porter in favor of expanded use of replay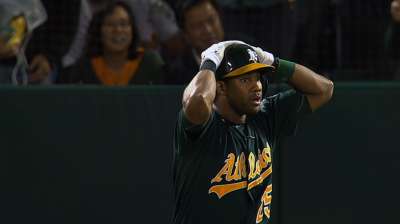 OAKLAND -- Astros manager Bo Porter, whose team benefited from a favorable review late in Tuesday's game, said he's in favor of more replay because getting the call correct is ultimately the most important thing.
The committee that has been working on making recommendations for expanded replay briefed Major League Baseball's executive council late Wednesday afternoon and will report to the joint session Thursday morning during the quarterly Owners Meetings in Cooperstown, N.Y.
There is broad support to increase replay beyond the current boundary calls involving home runs, including trap plays and fair-foul debates. There remain questions about the added costs of more replay and how it will be determined replays should be used.
"As it relates to replay, I've always had the same stance: I think at this level of the game, you always want to get it right, especially home runs," Porter said. "The biggest question when you start to talk about replay is when the ball is still in play, it's where to place the runners [i.e., during a home run that's overturned and ruled a double]. I will let the higher beings get that straightened out, and when they present it to me I will adapt accordingly and go with it."
With two outs in the bottom of the ninth inning of a one-run game on Tuesday, Oakland's Chris Young nearly won the game with a fly ball down the left-field line that curled just to the left of the foul pole. The play was reviewed and correctly upheld as a foul ball, and Young struck out to end the game on the next pitch.
"When you look at the replay -- they say it's a game of inches -- and it's definitely a game of inches," he said.
Brian McTaggart is a reporter for MLB.com and writes an MLBlog, Tag's Lines. Follow @brianmctaggart on Twitter. This story was not subject to the approval of Major League Baseball or its clubs.