Nats win fifth straight thanks to Span's catch
Nats win fifth straight thanks to Span's catch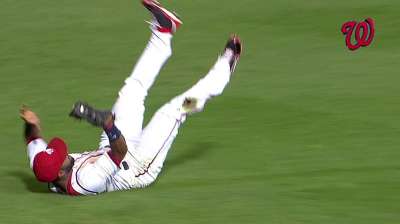 WASHINGTON -- Say what you want about outfielder Denard Span. He has been inconsistent at the plate, but he is one of the best center fielders in the game and it was his glove that helped the Nationals edge the Giants, 6-5, on Wednesday evening at Nationals Park.
Washington has won five straight games for the second time this season, but didn't gain any ground in the Wild Card race as the Reds defeated the Cubs, 5-0, at Wrigley Field. The Nationals remain 8 1/2 games behind Cincinnati for the second and last Wild Card spot.
In the ninth inning, the Nationals were up, 6-4, when San Francisco tried to make its comeback against closer Rafael Soriano. With two outs and a runner on second, Brandon Belt singled to center field, scoring pinch-runner Andres Torres. Buster Posey followed and singled to put runners on first and second. Up stepped Hunter Pence, who already had two hits in the game. The Nationals were playing him to hit to right field.
On an 0-1 pitch, Pence surprised Washington by pulling the ball to left-center field. Span, who was playing in right-center, had to go a long way and made a diving catch in left-center to end the game.
"Soriano pitched the ball and I was playing Hunter to right-center -- a little bit opposite field," Span said. "Off the bat, I actually took a false step, kind of stepped in a little bit, and I just broke for the ball and put my head down two or three steps, and I was able to come up with the ball."
Span didn't know he had a shot to catch the ball until he was set to make the dive for it.
"I said, 'Oh [man].' I just put my head down. I looked up and it seemed like I gained ground on it and that's when I said, 'I'm going to be able to reach for it,' and once I caught it, I tried to hold on to it. Once my hand hit the ground, [the ball] tried to come out, but I wouldn't let it go."
Pence didn't know the catch was made by Span until he heard the crowd's thunderous applause.
"I had my head down, running. The crowd noise was what made me look up. I was kind of in a little bit of shock," Pence said. "I thought it was in the gap and it was a long, long way from him. He apparently made a spectacular play. I haven't seen it."
Span's grab was one of the best catches in Nationals history. Jayson Werth doesn't disagree with that theory.
"With him now this whole year, it's not surprising," Werth said. "The guy can really go get the baseball. Underrated. Again, a good jump, but better route. You throw speed in the mix, that's what it takes to be an above-average to excellent outfielder. He has really impressed me with his defense."
One can imagine how manager Davey Johnson felt after the game.
"Heck of a play -- I didn't think he was going to get to it," the skipper said. "He kind of put it in another gear -- a full out leap. ... He has made it look easy out there. He covers a lot of ground. He does great routes, gets great jumps. Makes a lot of [things] look easy."
Before Span's catch, the Nationals didn't have any problems scoring runs.
The game was tied at 1 when the Nationals batted around in the fourth off right-hander Tim Lincecum. With the bases loaded, Anthony Rendon smoked the ball over the head of center fielder Gregor Blanco, scoring Bryce Harper and Werth to make it a 3-1 lead.
Kurt Suzuki followed and blooped a single to left field, scoring Adam LaRoche, then Rendon scored on a wild pitch to make it a 5-1 game. Suzuki scored the last run for the Nationals on an infield single by Ryan Zimmerman.
"Anthony got the big hit tonight with that bases-loaded double. He is just growing, learning on the job," Johnson said. "I like where we are at. We just have to do a few little things. [When it comes to our bullpen], we just have to get some people out."
San Francisco made the game interesting in the top of the eighth inning off two Nationals relievers. With one out and left-hander Ian Krol on the mound, Belt hit a monster home run over the right-field fence. Three batters later with right-hander Ryan Mattheus on the mound, Pablo Sandoval hit a double to right field, scoring Posey and Pence. Reliever Tyler Clippard came in and stopped the bleeding by striking out Roger Kieschnick and Blanco to end the threat. Soriano notched his 31st save despite allowing the ninth-inning run.
"I got to get some help in the bullpen. I just can't keep throwing Clipp and Sori. We should have been able to put that one away," Johnson said. "They just have to make better pitches. I can understand Krol. He is still feeling his way a little bit. But that's a pretty good hitting ballclub over there. You have to make pitches."
Right-hander Jordan Zimmermann won his team-leading 14th game of the season. He lasted seven innings, allowed one run on six hits and struck out two batters. The Giants scored the first run of the game in the second inning, when Pence scored on a single by Kieschnick.
"The last three innings were a lot better," Zimmermann said. "I had to battle the first four innings. The last three was pretty easy. I kept the ball in the bottom of the zone. I was throwing a lot of good changeups. It was definitely fun."
Washington tied the score off Lincecum in the bottom of the second, when Ian Desmond hit his 17th home run of the season.
The Nats are now a game below .500 with a 59-60 record.
Bill Ladson is a reporter for MLB.com and writes an MLBlog, All Nats All the Time. He also can be found on Twitter @WashingNats. This story was not subject to the approval of Major League Baseball or its clubs.