Mets taking cautious approach with Flores
Mets taking cautious approach with Flores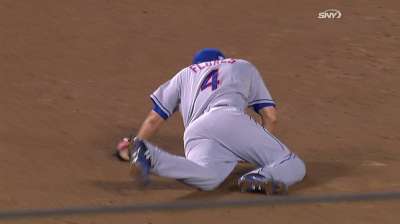 LOS ANGELES -- Rookie third baseman Wilmer Flores was out of the starting lineup again Wednesday evening with a twisted right ankle, though the Mets' initial concerns that he may land on the disabled list have waned. After testing the ankle in an indoor batting cage Wednesday afternoon, Flores rapped out a pinch-hit single in the ninth inning against the Dodgers.
Mets manager Terry Collins expressed optimism earlier Wednesday that Flores can return to the starting lineup as soon as this weekend in San Diego.
"I don't know how long it's going to be," Collins said of Flores, who hit .259 with nine RBIs over the first seven games of his career. "If we're talking four or five days from now, then that's an issue. But if he recovers pretty fast, he should be able to play this weekend."
Calling Flores "marginally better" after twisting his ankle running the bases during Monday's loss to the Dodgers, Collins immediately removed him for a pinch-runner following his hit. The Mets planned to be "very careful having him run on" his ankle, according to Collins.
"I don't think it is anything that's going to be ultimately serious that he's going to miss a really extended period of time," the manager said, "unless we run him back out there too early and he twists it again."
Anthony DiComo is a reporter for MLB.com. Follow him on Twitter @AnthonyDicomo. This story was not subject to the approval of Major League Baseball or its clubs.