Early surge spurned by red-hot Dodgers
Early surge spurned by red-hot Dodgers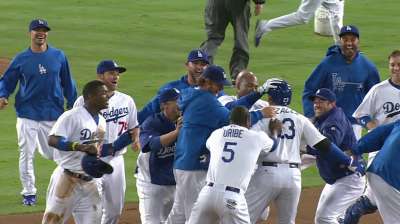 LOS ANGELES -- There is little the Dodgers have not done well throughout their historic eight-week run, which has vaulted them from last place to first in the National League West. As Mets manager Terry Collins recently explained it, "They're playing great defense, they're pitching like crazy and they're coming up with big hits." It is a combination that every team craves.
To escape Chavez Ravine with at least one win, then, the Mets knew they had to draw upon their own strengths in Wednesday night's series finale. They had to out-Dodger the Dodgers, which in the end proved too formidable a task. Unable to crack Los Angeles' aura of invulnerability, the Mets instead lost a 5-4 game on Adrian Gonzalez's walk-off double in the 12th.
"I can't explain what's happening here," Dodgers manager Don Mattingly said. "But it's fun."
What happened was the Mets led every game of the series, only to lose all three in the end.
"They just kind of proved why they're that hot right now," starting pitcher Dillon Gee said. "They came back every single night."
Wednesday's requisite comeback began against Gee, but did not reach full strength until the ninth. Facing Mets interim closer LaTroy Hawkins, Mark Ellis rapped out a leadoff single to give the Dodgers life despite a two-run deficit.
The next batter, Jerry Hairston, hit a comebacker that struck Hawkins squarely in the groin. Hawkins, who was not wearing a protective cup and said he never has in his 19-year career, likened the feeling to being "kicked by a mule."
Yet after throwing a few warmup pitches in front of Collins and trainer Ray Ramirez, Hawkins remained in the game. The manager reasoned that his closer "was fine, otherwise I'd have taken him out," and Hawkins agreed that "it was tough, but I had a job to do."
How much that played into what happened next is impossible to say but difficult for the Mets to forget: Hawkins left a fastball out over the plate, and pinch-hitter Andre Ethier crushed it to left for a two-run, game-tying homer.
"I knew I hit it well, but here at night to the opposite field, not too many lefties hit balls out that way," Ethier said. "I was looking for the left fielder to catch it against the wall. I put a good swing on it. It's on par for what's going on with this team."
Three innings later, after Yasiel Puig manufactured a double out of a ground ball off shortstop Omar Quintanilla's glove, Gonzalez served the game-winning hit into left field. With that, the Dodgers won their 23rd game in 26 tries since the All-Star break, and their 40th in 48 games since June 22.
"You've got to give them credit," Gee said. "They're a good team. They're playing really well. Sometimes things just happen like that. We're playing hard too, and things just didn't turn out the way we wanted."
It was Gee who originally put the Mets in position to win, opening the game with three perfect innings and ultimately delivering a quality start. Gee escaped a bases-loaded jam in the fourth but could not do the same in the sixth, cracking on Ellis' RBI fielder's choice and Hairston's run-scoring single. Still, the right-hander allowed only those two runs in six innings, striking out four and walking one.
Scott Rice, a Southern California native who fulfilled a childhood dream earlier in the day by meeting longtime Dodgers broadcaster Vin Scully, followed with two perfect innings to send the game to the ninth. At the time, the Mets seemed primed to do what precious few teams have accomplished over the past two months: beat the Dodgers.
Instead, they came away understanding how Los Angeles has built this Hollywood reputation.
"They're playing good, and they pitched very, very well," Collins said. "You look at what they did -- each game we got out early and never got anything after that. They pitched very well and that's about it."
Though their rate of free baseball has fallen in recent weeks, the Mets have now played 16 extra-inning games this season or roughly one per week. Of those, one went 20 innings. Three others went at least 15. The cumulative damage over the season has been taxing.
"We've got a lot of guys playing on low petrol right now," Collins said. "That's the main thing. We've got a lot of guys whose legs are getting a little weary."
Anthony DiComo is a reporter for MLB.com. Follow him on Twitter @AnthonyDicomo. This story was not subject to the approval of Major League Baseball or its clubs.