Kemp does light workout on field, takes BP
Kemp does light workout on field, takes BP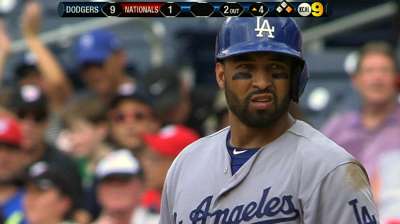 LOS ANGELES -- The Dodgers have been on a tear in the second half, but center fielder Matt Kemp has been reduced to a spectator and is looking forward to getting back on the field, whenever his sprained left ankle allows.
Kemp has played just one game since the All-Star break, when he returned from the disabled list July 21 against Washington and had a home run and three RBIs before spraining his ankle in an awkward slide at the plate in the ninth inning. He hasn't played since and is on the DL for the third time this year.
"I can't complain, I can only get better," said Kemp, who has been limited to 62 games this season.
The Dodgers entered Wednesday night's game 22-3 after the break. They are 39-8 since June 22, the best record in the Major Leagues during that span, though Kemp has played only 11 of those games.
"It's always tough to watch a team do good when you want to be a part of it," Kemp said Wednesday. "I'm a part of it, but I would like to be a part of it on the field. But it's good to know that the team is doing good when people go down. It shows what kind of team we have and how good we can be."
Kemp took live batting practice at Dodger Stadium on Wednesday afternoon and did some light agility drills in the outfield. But his ankle still appears to bother him, and there is no set timetable for a Minor League rehab assignment.
"It feels better and better every day, ankles just take time," Kemp said. "My ankle will let me know when it's time to do a rehab assignment and go out there and be ready to play."
Kemp wants to return to the field and help out this team because he knows how good the Dodgers can be.
"The last three years have been disappointing for us, we haven't made the playoffs and we've had really good teams," he said. "But this year, this team is special."
Austin Laymance is an associate reporter for MLB.com. This story was not subject to the approval of Major League Baseball or its clubs.