A's being cautious with Jaso's recovery
A's being cautious with Jaso's recovery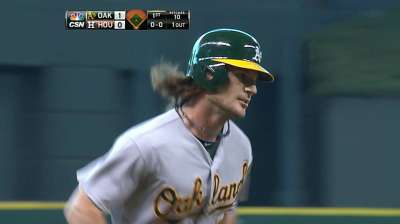 OAKLAND -- A's catcher John Jaso is expected to make a full recovery from the concussion he experienced in late July, but the timetable for his return is still up in the air.
Jaso met with Dr. Michael Collins, a leading authority on concussions, in Pittsburgh on Tuesday after the team decided his prolonged inability to participate in baseball activities garnered cause for a consultation.
The left-handed hitter has already been cleared for physical activity, such as weight lifting, riding a stationary bike and running on a treadmill, but baseball activities are still out of the question after meeting with Collins.
"He said that he's going to be fully recovered from this, just not that this point," A's manager Bob Melvin said.
The next step for Jaso is to work on visual exercises, but because of the nature of head injuries, it's difficult to assess when he'll be able to resume a more strenuous workload.
When asked whether Jaso returning to the field this season was in question, Melvin could not say for certain.
"We certainly hope not," he said. "But again, there's no timetable at this point."
Jeff Kirshman is an associate reporter for MLB.com. This story was not subject to the approval of Major League Baseball or its clubs.