Wilson could join Dodgers 'pen on road trip
Wilson could join Dodgers 'pen on road trip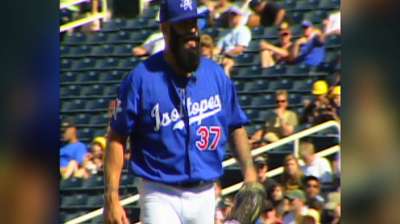 LOS ANGELES -- Brian Wilson is likely to join the Dodgers' bullpen during the team's upcoming road trip, possibly as soon as Friday.
Wilson fired 1 1/3 scoreless innings in a Minor League rehab appearance Tuesday with Triple-A Albuquerque. The right-hander has allowed just one hit in four rehab appearances between Triple-A and Class A Rancho Cucamonga.
"All the reports are good," Dodgers manager Don Mattingly said Wednesday.
But Mattingly would not reveal the club's plans for Wilson, only saying there was a chance Wilson would join the team during a seven-game road trip that begins Friday in Philadelphia.
"When we bring him up, we'll let you know," Mattingly said. "I don't think we're willing to really talk about anything with Brian as far as what is going to happen and what we're going to do."
Does that mean Wilson is not ready to pitch in the Major Leagues?
"I didn't say he wasn't ready," the manager said.
Does Wilson need to make another rehab appearance in the Minors?
"I can't say that," Mattingly said.
The Dodgers would need to make room for Wilson on the roster whenever they decide to activate the reliever, and there are a few scenarios for that to happen.
The bullpen has been superb lately, so the club might not want to make a roster move with a reliever. Chris Withrow has options, but he's been solid and has earned Mattingly's praise.
Dee Gordon has options, and the Dodgers could option the shortstop to Triple-A if management is convinced Hanley Ramirez (sore shoulder) would be able to play on a regular basis. Ramirez started Wednesday for the first time since he injured his shoulder Aug. 4, and the Dodgers medical staff will use a day off Thursday to evaluate how Ramirez's shoulder responds to playing.
"We've talked about different scenarios, but they are fluid," Mattingly said.
The Dodgers signed Wilson, 31, as a free agent on July 30. The former Giants closer has not pitched in the Major Leagues since he had Tommy John surgery in April 2012.
Austin Laymance is an associate reporter for MLB.com. This story was not subject to the approval of Major League Baseball or its clubs.