Giants could be open to Pill playing left field
Giants could be open to Pill playing left field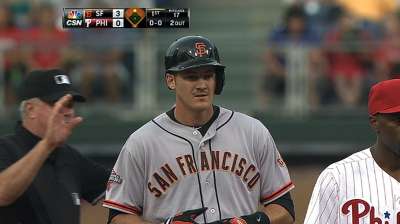 WASHINGTON -- Acknowledging the intent to create more playing opportunities for Brett Pill, Giants manager Bruce Bochy said Wednesday that playing him in left field "might be an option."
Pill went 6-for-8 in his first two games for the Giants after his July 29 promotion from Triple-A Fresno but had gone 1-for-12 since while playing sparingly, entering Wednesday. Brandon Belt's hot hitting has prevented Pill from receiving playing time at first base, his primary position.
"It's difficult to get him out there, the way Belt's playing," Bochy said.
But Pill has played eight games in left field as a Giant, starting seven. And none of San Francisco's left fielders -- Jeff Francoeur (.207 batting average entering Wednesday), Roger Kieschnick (.265 average and slugging percentage) and Gregor Blanco (.249) -- has hit proficiently enough to claim the position.
Chris Haft is a reporter for MLB.com. This story was not subject to the approval of Major League Baseball or its clubs.