Fresno pitchers making case for September callups
Fresno pitchers making case for September callups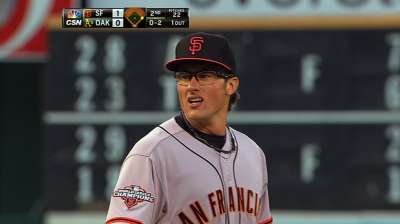 WASHINGTON -- If recent trends continue, the Giants' pitching staff could expand considerably next month.
Left-handers Mike Kickham and Eric Surkamp, who have performed for the Giants this season, could return when roster limits expand to 40 on Sept. 1, based on their improvement with Triple-A Fresno. The same goes for right-hander Heath Hembree, formerly regarded as San Francisco's closer of the future.
Giants manager Bruce Bochy emphasized that no decisions have been made about September callups. But he has noticed the strides made by Kickham, Surkamp and Hembree.
"I'm glad for them," Bochy said Wednesday. "They definitely look like they've gotten into a good groove."
Kickham, ranked third among Giants prospects by MLB.com, is 3-0 with a 0.87 ERA in his last three starts.
Surkamp has improved to 4-1 with a 3.02 ERA for Fresno. Rated No. 13 by MLB.com among Giants prospects, Surkamp has allowed one earned run while pitching seven innings in each of his last three starts. Surkamp has yielded 13 hits while striking out 16 and walking four in that stretch.
Hembree, San Francisco's No. 6 prospect in MLB.com's ratings, recorded saves in six of his previous seven outings entering Wednesday to increase his season total to 27. Hembree also had made six consecutive scoreless appearances.
Chris Haft is a reporter for MLB.com. This story was not subject to the approval of Major League Baseball or its clubs.