Lopez moving up into rare air for relievers
Lopez moving up into rare air for relievers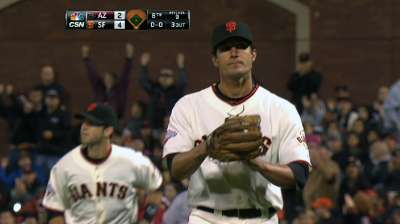 WASHINGTON -- One outing at a time, Javier Lopez has climbed into select company.
The Giants left-hander made his 611th career relief appearance Tuesday, tying him with Keith Foulke and former Giant Stu Miller for 100th all-time. Lopez, who reached the Major Leagues in 2003, will have to remain active for quite a few more years to match all-time leader Jesse Orosco's mark of 1,248.
"A lot of it is more my body than my arm," Lopez said Wednesday of his durability. "I've been blessed with some good genes. I'd like to thank my parents for that."
Lopez, who began his professional career as a starter in the Arizona Diamondbacks system, admitted wondering what it's like to start a game on the big league level.
"It's one of those things you always wish you could do. When I got drafted, that was what I had planned on doing," Lopez said.
Switching to relieving and throwing from a dramatically lower arm slot, he added, "ended up being the best thing for me. I'm happy with my role."
Chris Haft is a reporter for MLB.com. This story was not subject to the approval of Major League Baseball or its clubs.