Harrison frustrated by persistent back issue
Harrison frustrated by persistent back issue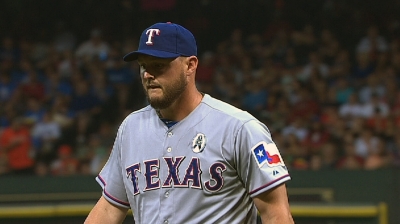 ARLINGTON -- Left-hander Matt Harrison could best describe his 2013 season as forgettable. He started just two games this year due to a back problem that carried into his rehab start on Friday. The Rangers decided to shut him down for the season on Tuesday.
"It's just more frustrating than anything," Harrison said. "I'm not mad, because I know I did more than anything to get back. I felt like I was 100 percent, but I guess my back wasn't really ready for game speed."
Harrison said he couldn't feel the problem on the mound due to adrenaline, but he noticed he was dropping his back side on film. He said the issue was similar in his only two starts this season, leading to Harrison's second surgery to repair a herniated disk.
"It started getting weak again and now my leg a little bit," Harrison said. "It started contributing to other parts of my body."
There's no surgical damage in Harrison's back, nor structural damage in his arm. Harrison will not touch a ball for three weeks, but he will continue conditioning in the meantime.
"It's been rough," Harrison said. "At this point, I'm just trying to clear my head and do as much as I can to rehab and try to get this back strengthened up for a healthy 2014."
Master Tesfatsion is an associate reporter for MLB.com. This story was not subject to the approval of Major League Baseball or its clubs.