Martin's season continues to trend upward
Martin's season continues to trend upward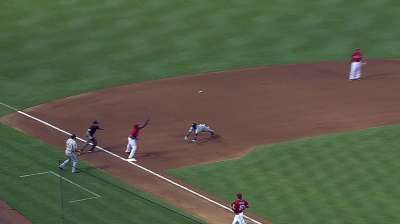 ARLINGTON -- Leonys Martin has improved significantly this season, particularly on the basepaths. He became the first Texas player with three or more stolen bases in consecutive games last week against the Angels, but he's been caught stealing in his last three attempts.
Martin, along with Jurickson Profar, worked on his baserunning with third-base coach Gary Pettis during batting practice on Wednesday.
"I need to be more patient with myself," Martin said through an interpreter. "I need to be more calm when I try to steal."
Rangers manager Ron Washington doesn't feel Martin, who had 16 consecutive successful stolen base attempts this season, has been anxious on the bags. He gave credit to the catchers on Martin's last two stolen base attempts for great throws to second base.
"That's what it's going to take to throw that kind of guy out, real good throws," Washington said. "He's not getting overanxious."
Martin has seen his role increase throughout the season from an outfielder sharing time in center field, to an everyday starter and now the leadoff hitter. Entering Wednesday's game, he was hitting .292 (19-65) with a home run, 10 RBIs and seven stolen bases in 15 games at leadoff. Washington said Martin has learned to take pitches at the top of the order, but he's still learning in his new role.
"Sometimes he takes pitches I wish he would've swung, but I'm not going to hit him with that because we're trying to get him comfortable and figuring it out for himself," Washington said. "... He'll learn, but I'm not saying anything to him, because he's trying. He'll figure it out, along with people in his ear, he'll figure out."
Master Tesfatsion is an associate reporter for MLB.com. This story was not subject to the approval of Major League Baseball or its clubs.