CY stunned again as A's fall to Astros in extras
CY stunned again as A's fall to Astros in extras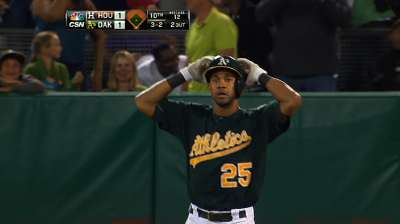 OAKLAND -- It couldn't be. Not again. There was just no way that he could come so close -- mere inches, both times -- from a game-winning home run two nights in a row and have nothing to show for it.
Chris Young had to see it for himself, right in front of him with his own eyes, just to make sure that he had indeed been robbed -- that the A's had been robbed of their second walk-off win in as many nights, this time by a game-saving catch in left field by the Astros' Robbie Grossman.
"That would be the greatest prank of all time," said Young, who asked to see the ball when Grossman crossed second base between innings. "You just have to see it to believe it."
It was true. The A's lost, 2-1, off an RBI double by Carlos Corporan in the 11th inning against Sean Doolittle to give the Astros their third win in four games against the A's and drop Oakland two games back behind the Rangers in the American League West.
It was the second game in a row that Young nearly won the game with a swing of the bat. His fly ball with two outs in the bottom of the ninth on Tuesday hooked just foul of the left-field foul pole before he struck out swinging to end the game.
"I thought he hit it good enough," Grossman said, "but I thought the park would hold it a little bit and give me a chance, and that's all I needed."
Grossman's heroics in extra innings drew attention away from the stellar pitching from both starters and provided evidence in favor of those who find old-school statistics like wins and losses for pitchers antiquated.
Jarrod Parker allowed one run over 8 1/3 innings for Oakland. Jarred Cosart threw six shutout innings for Houston. Yet neither was awarded the win.
Pitching on four days' rest, Parker didn't allow a Houston runner to reach scoring position until two outs in the sixth and finished the night with six strikeouts and one walk. Cosart yielded just three hits with four strikeouts in his blanking of the A's.
Parker slipped first when Chris Carter drove the first pitch of the seventh inning over the left-field wall to give the Astros a 1-0 lead, while the A's tied the game one inning later when Brandon Moss doubled in Yoenis Cespedes from first base.
Parker's outing was a welcomed return to form for an A's starting rotation that entered Wednesday 3-7 with a 4.30 ERA over the past 14 games.
"You pitch like that and you get that deep into the game and only give up one run," Melvin said. "You're going to win that game a lot more times than not."
The A's skipper was ejected after arguing a call with second-base umpire Doug Eddings after the third out of the eighth inning, when Eric Sogard was called out at third on an attempt to tag from second base on a fly ball to center field.
Brandon Barnes' throw was ruled to beat Sogard, prompting a demonstrative protest by Sogard and Melvin's emergence from the home dugout.
The ejection was Melvin's fourth of the season and 29th in his managerial career.
"We got to make sure we're safe," Melvin said on Sogard's decision to tag up. "The debate is whether he was safe or not."
Equally questionable was Alberto Callaspo's attempt to bunt with Sogard on second once again with no one out in the 11th. Callaspo had failed his attempt to lay down a clean bunt earlier in the game, and he did so again in the 11th, popping up for the first out of the inning before Jed Lowrie and Josh Reddick struck out in consecutive at-bats to end the game.
"It just seemed like it was frustrating from the beginning and it got more frustrating as the game goes along," Melvin said. "You got to try to put that away and keep your wits about you. It's one of the more frustrating losses of the year."
Jeff Kirshman is an associate reporter for MLB.com. This story was not subject to the approval of Major League Baseball or its clubs.