Grossman, Astros pull off heist in Oakland
Grossman, Astros pull off heist in Oakland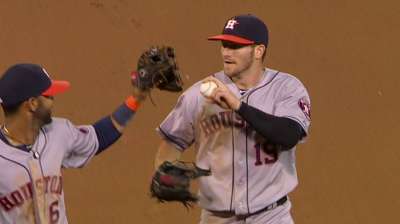 OAKLAND -- There was Robbie Grossman leaping high into the air to rob Chris Young of a would-be walk-off homer. There was Jose Altuve racing home from first base to score the winning run despite a bum leg. There was Josh Fields shrugging off a leadoff double in the 11th to come back and shut the door.
And don't forget about another terrific performance by rookie starting pitcher Jarred Cosart.
If you were looking for a few good heroes, the Astros had you covered Wednesday night.
The Astros pulled off one of their most scintillating wins of the season, getting contributions from all corners of the clubhouse to beat the A's, 2-1, at O.com Coliseum for their second win in a row -- their first winning streak in two months.
"It was a huge team win because we had so many guys contribute," said Fields, who got three straight outs in the 11th for his second save after allowing a leadoff double to Eric Sogard.
Backup catcher Carlos Corporan, who hit a homer in the eighth inning on Monday against Texas to break up Yu Darvish's no-hit bid, came off the bench and rocketed a double high off the left-center-field wall in the top of the 11th to score Altuve, who made it home despite dealing with a sore left quadriceps.
"I put a good swing on it," Corporan said. "I think everything is going our way, so right now that's pretty good."
By taking the first two games of the series, the Astros have won consecutive games for the first time since winning four straight June 12-16. It's Houston's first series win since taking two of three from Milwaukee June 18-20 in Houston.
"It just shows a lot about this team," Grossman said. "It just shows how much resiliency this team has. No matter what the score is, we're fighting every at-bat."
Grossman turned in the biggest play of the night when he reached high above the wall to catch a Chris Young potential game-winning home run for the final out of the 10th. A night earlier, Young nearly hit a walk-off homer in the ninth, only to watch it go foul by a narrow margin.
"It was a great play," Young said. "I hit the ball pretty good. In the night time here it doesn't fly too well, but I did what I wanted to do. It was a crazy play. Just got to keep pushing."
As Grossman ran expressionless into the dugout with the ball tucked in his glove, a disbelieving Young yelled at him, "Let me see that ball." Grossman held it up and kept running.
"I thought he hit it good enough, but I thought the park would hold it a little bit and give me a chance, and that's all I needed," Grossman said.
Cosart was spectacular once again, throwing six scoreless innings, allowing three singles and one walk while striking out four. He left the game with a 1-0 lead after throwing 99 pitches.
Through six starts, Cosart has only one win despite a 1.15 ERA in 39 innings, during which he's allowed 28 hits and five earned runs. He hasn't won since beating Rays ace David Price in his Major League debut on July 12.
"I've been able to miss some more bats today, too, so it's just keeping the ball down in the zone and trying to pitch more instead of just throw," he said. "Today is the best my offspeed pitches have been and it paid dividends. Not a lot of hard contact. I was able to keep the ball down and move it in and out. That's the name of pitching. I'm happy we got the win and won a series, and hopefully we can keep it rolling form here."
Philip Humber, who was called up from Triple-A Oklahoma City prior to Tuesday's game, relieved Cosart and promptly recorded the Astros' 22nd blown save of the season by giving up a single to Yoenis Cespedes and an RBI double to Brandon Moss.
"I thought Phil made a good pitch," Cosart said. "That's just baseball, and they tied it up."
The Astros' much-maligned bullpen tightened the screws with Kevin Chapman throwing 1 2/3 innings of scoreless relief and Lucas Harrell (6-13) throwing a scoreless inning for his first win since June 15. After giving up Sogard's double, Fields recorded an out when Alberto Callaspo failed to get a bunt down and popped it up before striking out Jed Lowrie and Josh Reddick to end the game.
"I said, 'You know what, if this guys scores, whatever,'" Fields said. "I'm just going to go out there and throw pitches. I felt like the worst thing I could have done is what I've done earlier this year, and that's press a little bit, thinking, 'Wow, I'm in the big leagues and I have a guy on and can't let him score.' Tonight I just said, 'If he scores, I can't do anything about it. All I can do is make the best pitches I can and be aggressive.'"
Chris Carter broke a scoreless tie in the seventh inning when he led off with a homer to left field off A's starter Jarrod Parker. It was the 22nd homer of the year and 13th on the road for Carter, who was traded from the A's to the Astros last winter.
"It's a pretty good way to write up a game," Cosart said.
Brian McTaggart is a reporter for MLB.com and writes an MLBlog, Tag's Lines. Follow @brianmctaggart on Twitter. This story was not subject to the approval of Major League Baseball or its clubs.