Henderson goes extra mile for last two saves
Henderson goes extra mile for last two saves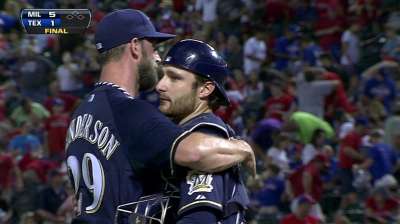 ARLINGTON -- Jim Henderson has worked harder than usual for his last two saves, both of which required him to record the last out of the eighth inning before getting through the ninth. He had never recorded a four-out save before Aug. 6 in San Francisco, but he did it for the second consecutive appearance Tuesday against the Rangers, getting Ian Kinsler to line out with the bases loaded.
Though it's increasingly rare for closers to pitch more than an inning, Henderson isn't complaining. It helped that he had a week off between appearances.
"I think just the situation last night was pretty high-leverage with the bases loaded, so I was happy to get the opportunity to come in," Henderson said." You're fired up in that situation, for sure, so nothing much changes as far as the attitude and the mentality when you go out there."
Henderson earned his seventh consecutive save and 17th of the season on Tuesday. He saved both ends of a doubleheader in Chicago against the Cubs on July 30 and has not allowed a run in his past 11 appearances. During that stretch, he has yielded just four hits in 11 innings, striking out 16 and walking five while holding opponents to a .108 average.
Those are impressive numbers for a second-year pitcher who only became a closer this season. Henderson is embracing the role, and the mentality that goes with, more and more as his career unfolds.
"I find I have been getting a little more amped up, especially the last four or five appearances," Henderson said. "Big moments, back-to-back saves on the same day in Chicago. It was exciting. I've been fired up. Now, I'm looking forward to the ninth inning every time, the nerves are starting to go away and now I'm just getting more aggressive."
Dave Sessions is a contributor to MLB.com. This story was not subject to the approval of Major League Baseball or its clubs.