Ramos expects quick return from hamstring strain
Ramos expects quick return from hamstring strain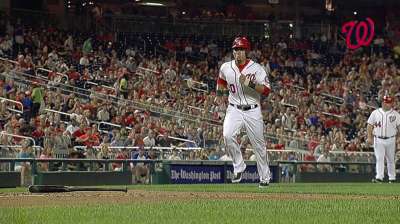 WASHINGTON -- After injuring his left hamstring for the third time this season Tuesday night, Wilson Ramos was all smiles in the Nationals' clubhouse Wednesday. The strain was not as serious as the team feared, and Ramos said he will only miss one or two games before returning to the lineup.
"[I'm] a little bit happy because it's not too hurt," Ramos said. "I felt a little bit yesterday sore in my hamstring but it's not in the big part of the hamstring. It's down in the hamstring, a little bit behind the knee."
Ramos said he felt the muscle tighten as soon as he left the batter's box after hitting a ground ball in the fourth inning, but he knew right away that the strain wasn't as bad as his previous tweaks. The 26-year-old said last month that he would not run full speed on routine grounders, but when the ball deflected off pitcher Madison Bumgarner's glove, Ramos thought he could beat the throw to first.
"Next time for me, easy out," Ramos said. "I'm not going to try to do too much, not anymore."
Manager Davey Johnson said that is easier said than done.
"That's easy to say, but as soon as you hit one where he thinks he's got an infield hit, he's going to go hard. That's just human nature," Johnson said. "I think it's that first move coming out [of the batter's box] that you've got to be careful with, because you twist and then you're jumping back."
Ramos exited Tuesday's game after the fourth inning, when the game was delayed for more than a hour because of rain. Had it not started raining, Ramos said he likely would have tried to stay in the game.
"Thank God it was raining," he said. "He took me out of the game."
Ramos was left out of Wednesday's lineup but could return for Thursday's series finale vs. the Giants or Friday, when the team opens a three-game series in Atlanta. Johnson said he wanted to see Ramos go through his normal pregame routine before determining how many games the catcher would miss.
Despite Johnson's concerns, Ramos said he hopes to resume starting every day when he returns to the lineup. He said the regularity has helped him get in a rhythm, both at the plate and behind it.
"I feel comfortable when I play every day," Ramos said. "I feel strong, more consistent behind the plate or hitting. I saw the difference in this month. I threw a couple runners out. My arm feels good. I feel good behind the plate, calling games. I'm hitting well. I can see the difference when I play every day than every other day. That's good for me. And hopefully I'll be ready in two or three more days and then go keep playing like that."
Bill Ladson is a reporter for MLB.com and writes an MLBlog, All Nats All the Time. He also can be found on Twitter @WashingNats. Tom Schad is an associate reporter for MLB.com. This story was not subject to the approval of Major League Baseball or its clubs.