Francisco's two-homer game undone by Rangers' rally
Francisco's two-homer game undone by Rangers' rally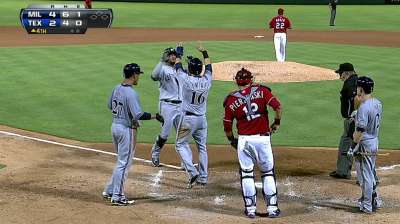 ARLINGTON -- The Brewers' bullpen has been one of its strongest, steadiest assets this season, but it was their undoing in Wednesday night's 5-4 loss to the Rangers.
After Tyler Thornburg put up his third quality start in as many outings for Milwaukee, manager Ron Roenicke turned a two-run lead over to his relievers, beginning with Michael Gonzalez to start the seventh inning.
But Gonzalez walked the only two batters he faced and John Axford, Gonzalez's replacement, issued a third consecutive free pass to load the bases. Axford struck out the next batter, but Elvis Andrus singled home a run and Roenicke summoned Burke Badenhop from the bullpen, again to face a bases-loaded situation. Badenhop fell behind 2-0 to Ian Kinsler, who ripped his third pitch into left field to score the tying and winning runs.
"They've been doing such a good job, when they don't, it's surprising," Roenicke said of his relievers. "We walked the bases loaded. That's tough to do when you're up a couple runs. But I know these guys aren't perfect and we're certainly not trying to walk anybody. Those things happen."
The Brewers' bullpen problems cost Thornburg a chance at his first Major League win as a starter. The loss also made Juan Francisco's two-homer, four-RBI night against the Rangers' Matt Garza a footnote, albeit an encouraging one.
"He did it against a very good pitcher," Roenicke said. "And for him … hitting balls opposite field like that, that's all he needs to do is just square it up -- anywhere in the ballpark, it's going to be gone."
Thornburg got no-decisions in two previous starts in which he threw six innings and allowed no runs. His most recent start, on Aug. 5 at San Francisco, happened to be the last time the Brewers' bullpen lost a game.
Thornburg allowed two runs, one earned, in six innings. He surrendered five hits and walked three.
"I thought I threw the ball well for the most part," Thornburg said. "I struggled a little bit early getting the ball down in the first. Through a lot of the game, I was trying to pitch pretty careful. That's the reason for the deep pitch count and not as many strikes tonight."
Though he, like most starters, would have relished a chance to keep pitching, after six innings Thornburg's pitch count was at 91, with only 51 strikes. Thornburg had another reason to understand Roenicke's decision to pull him.
"We've been great in the bullpen for the most part," he said. "So, if I had to make that decision, I probably would have, too."
Roenicke praised his starter, who has improved considerably since going 0-9 at Triple-A Nashville to start the year. Thornburg may be headed back to the bullpen now that Yovani Gallardo is ready to return to the rotation, but he turned some heads in the last week.
"I like the way he threw the ball," Roenicke said. "I thought as the game went on, his curveball got better. He threw some really good changeups and he spotted his fastball well. It's a good offense and to be able to get through them and keep the runs down, I thought that was important."
The Brewers chased Garza after only 5 2/3 innings, marking the first time in five starts since the Cubs traded him to Texas that he has not pitched at least seven innings.
Francisco hit a solo homer in the second inning. Then, in the fourth, Garza hit Aramis Ramirez with a pitch, then allowed a bloop double to Carlos Gomez before Francisco ripped a first-pitch homer to right field to give the Brewers a 4-2 cushion.
But the night eventually belonged to the Rangers' hitters, who seized the opportunity against the uncharacteristically wild Brewers bullpen -- starting with Gonzalez, who also struggled Tuesday night in a one-third inning, three-hit appearance.
"It's command with him," Roenicke said. "For whatever reason, he's not throwing the ball where he wants to all the time. They go through stretches like that just like a hitter goes through a little funk at times."
The Brewers also got burned by two fantastic throws by Rangers center fielder Leonys Martin, who threw out Jean Segura and Gomez trying to reach third from first on singles.
"It looked like we challenged the wrong guy," Roenicke said. "Those are as good of throws as I've seen from an outfielder. He's got a great arm, he was accurate with both throws and he threw out our two fastest runners."
The Brewers split the two-game series with the Rangers, who had won eight in a row prior to the series. Milwaukee also split the four-game season series against Texas.
Dave Sessions is a contributor to MLB.com. This story was not subject to the approval of Major League Baseball or its clubs.