Rangers rally from early hole with three-run seventh
Rangers rally from early hole with three-run seventh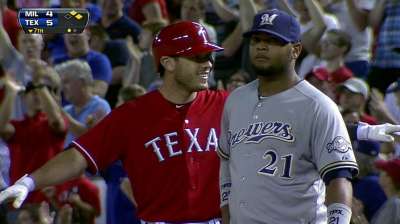 ARLINGTON -- The Rangers' offense suffocated against Brewers starting pitcher Tyler Thornburg, but showed a pulse against Milwaukee's bullpen on Wednesday. Texas produced a three-run rally in the seventh -- with some assistance -- in a 5-4 win at Rangers Ballpark.
Michael Gonzalez and John Axford walked three consecutive batters to load the bases in the seventh with no outs, two to pinch-hitters Craig Gentry and Jeff Baker. Elvis Andrus drove in the first run with a line-drive single to left, and Ian Kinsler followed with a two-run single off Burke Badenhop up 2-0 in the count to give the Rangers a 5-4 lead. It was Kinsler's second career go-ahead hit with the Rangers trailing in the seventh or later.
"You can't ask for more than that," Kinsler said. "Last night, I got in the same situation, got up 3-1 and hit a ball right at a guy. Tonight, I was able to find the hole."
Axford received the loss, allowing a run in one-third of an inning. Milwaukee's bullpen had the third-best ERA in the National League at 2.78 prior to the game. Thornburg threw just 51 of his 91 pitches for strikes, but he managed to allowed two runs (one earned) on five hits in six innings.
Texas has now won 14 of its last 16 games. It split a two-game series with the Brewers heading into Thursday's off-day. With the A's 2-1 loss to the Astros, the Rangers increased their division lead to two games.
Matt Garza had pitched at least seven innings in his first four starts with Texas. That streak came to an end against the Brewers due to a multi-home run effort from Juan Francisco. Garza allowed four runs on eight hits in 5 2/3 innings in a no-decision. The right-hander entered the game as one of four pitchers in club history to start his Rangers career with four outings of seven or more innings pitched.
Garza allowed both of his home runs to Francisco on fastballs. The first occurred in the second on a two-seamer that landed in the Brewers' bullpen. Garza allowed his second home run to the left-handed hitter on a four-seam fastball with two on in the fourth to give Milwaukee a 4-2 lead. Garza hit Aramis Ramirez in the elbow to lead off the inning on an 0-2 pitch. It was followed by Carlos Gomez's bloop double to right to pave the way for Francisco's second career multi-homer game.
"It was supposed to be a fastball in, and it took off," Garza said on the hit-by-pitch to Ramirez. "I'm not trying to hit the guy. I was [ticked] off, because you hit a guy on 0-2. Hit a guy on 3-0, not 0-2. It cost me another run."
Leonys Martin bailed Garza out twice in the game with two outfield assists in the first and sixth innings on Jean Segura and Gomez, two of the team's fastest runners, who attempted to advance to third base on singles. Garza did not allow a run in either inning.
"It looked like we challenged the wrong guy," Brewers manager Ron Roenicke said. "Those are as good of throws as I've seen from an outfielder. He's got a great arm, he was accurate with both throws and he threw out our two fastest runners."
Martin is now tied for the American League lead with 10 outfield assists. He's the first Ranger to reach double digits in outfield assists since Nelson Cruz in 2009. He has had five assists in the last seven games.
"Why do they still try to run on him?" Garza said. "You got two of the fastest guys thrown out going first to third in Gomez and Segura. I'd just stop running on him. If a ball is hit anywhere near him, I'd just stay at one base. It's not even worth it."
The Rangers' bullpen pitched 3 1/3 scoreless innings to keep them in the game. Jason Frasor recorded his fourth win this season with his shutout seventh inning. Joe Nathan recorded his 334th career save, retiring the Brewers in order.
"We never feel like we're out of the game," Kinsler said. "We're going to play all nine innings. When you got a bullpen like you have, we know we're going to have a lot of opportunities."
Master Tesfatsion is an associate reporter for MLB.com. This story was not subject to the approval of Major League Baseball or its clubs.