Wainwright on pace for career-high workload
Wainwright on pace for career-high workload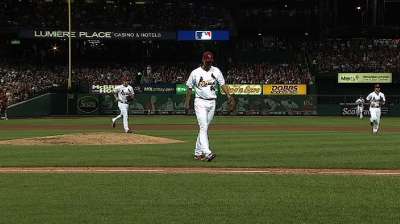 ST. LOUIS -- With another seven-inning start on Tuesday -- his 20th in 25 outings this season -- Adam Wainwright remains on pace to carry the heaviest workload of his career.
Wainwright leads the Majors with 182 2/3 innings pitched, only 16 fewer than he pitched during the 2012 regular season. The Cardinals can pitch Wainwright as many as nine more times before the season ends if the team sets up its rotation to maximize his availability. If he were to continue his innings-per-start pace, Wainwright would end the regular season just shy of the 250 mark.
He's never hit that in any season, even with postseason outings included. And, of course, if the Cardinals play deep into October, that extra work would push Wainwright's total innings count even higher.
Aware of the potential for Wainwright to approach the 272 1/3 innings thrown by Chris Carpenter two years ago, the Cardinals are monitoring the work. It was part of the rationale behind giving Wainwright extra rest before his start on Tuesday, too.
"Obviously, we are cognizant of his workload, and that's why we pushed him back, so he could catch some rest," said general manager John Mozeliak. "As we watch over the next six weeks, especially when we expand rosters, if we have an opportunity, we'll work some more rest in for him. He feels good. That's not to say that at times he doesn't feel somewhat tired because of what he's doing, but from a physical standpoint, he's strong and he understands the day-to-day rigors."
Neither Mozeliak, nor Wainwright, nor manager Mike Matheny, have attributed the heavy workload to Wainwright's slight dip in effectiveness over the past month. Though Wainwright has finished seven innings in all five of the starts he has made since the All-Star break, he is not dominating in the way he was during the first half of the year.
Before taking a week's rest in mid-July, Wainwright was 12-5 with a 2.45 ERA, with six home runs allowed and a strikeout-to-walk ratio of 8.7-to-1. Since then, the team has won just two of Wainwright's five starts. He's served up four home runs in 36 innings and has struck out 32, while walking nine. He is averaging 15.5 pitches per inning during that stretch, compared to 14.1 over the first half.
Speaking specifically of Tuesday's 122-pitch start, Wainwright suggested that the extra rest may have actually contributed to his pitch count spiking early.
"I think early on in that game, I felt like I hadn't pitched in the second half," said Wainwright, who was pitching on a week of rest. "It had been a while since my last start. You hate to make excuses, but it had to have played into my command a little bit early on."
Jenifer Langosch is a reporter for MLB.com. Read her blog, By Gosh, It's Langosch, and follow her on Twitter @LangoschMLB. This story was not subject to the approval of Major League Baseball or its clubs.