Up earlier this year, Gose close to coming back
Up earlier this year, Gose close to coming back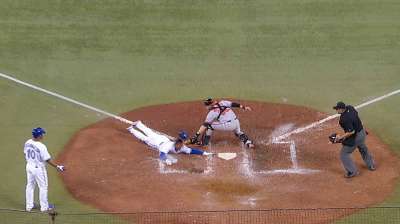 TORONTO -- Center fielder Anthony Gose appears set to rejoin the Blue Jays before the end of the week.
The 23-year-old prospect appeared in 13 games earlier this season, and following an injury to Colby Rasmus and Wednesday's trade of Emilio Bonifacio, there's an opportunity for playing time at the big league level.
Gose entered the year with plenty of hype, but has endured a frustrating 2013 campaign with Triple-A Buffalo. That caused him to drop down on the club's depth chart, but despite the struggles, Toronto still feels he has a bright future.
"You know what, young players, they go up and down," general manager Alex Anthopoulos said. "I've seen it many times. Players have good years, years not as productive. He's playing better of late. The numbers are still not where he obviously wants them to be or where they can be, [but] his average is starting to come up a little bit. Hard contact, quality of at-bats are getting a lot better."
Gose was passed over Wednesday afternoon in favor of fellow prospect Kevin Pillar, who was promoted after Rasmus hit the disabled list with a strained left oblique muscle. The 24-year-old Pillar will see regular playing time in left field while Rajai Davis slides over to center, but that alignment is only expected to last for a couple of days.
Toronto will soon return to a seven-man bullpen and when that happens, Gose is expected to receive a promotion. He'll likely see the bulk of the playing time in center during Rasmus' absence, while Davis returns to his role as a backup outfielder.
Gose is hitting just .239 with a .312 on-base percentage while striking out an alarming 119 times in 389 at-bats with the Bisons. He has been in and out of Buffalo manager Marty Brown's doghouse for not running out groundballs and some defensive lapses in the outfield, but Anthopoulos hopes that's a thing of the past.
The theory was that Gose didn't respond well to being demoted to the Minors in early June, and while that type of attitude could be considered problematic, it hasn't impacted the type of upside Toronto feels Gose can bring to the table.
"It doesn't change our long-term view of Anthony," Anthopoulos said. "When Anthony came up it was understood it was short term. He wasn't performing that well. He was struggling at that time -- we actually told him that.
"He knew when he got called up at the time that it wasn't a promotion that he was playing exceptionally well and he forced his way up here. It was a need that we had for a two- or three-week period."
Gregor Chisholm is a reporter for MLB.com. Read his blog, North of the Border, and follow him on Twitter @gregorMLB. Evan Peaslee is an associate reporter for MLB.com. Follow him on Twitter at @EvanPeaslee. This story was not subject to the approval of Major League Baseball or its clubs.