Lights-out Liriano masters Cards in complete game
Lights-out Liriano masters Cards in complete game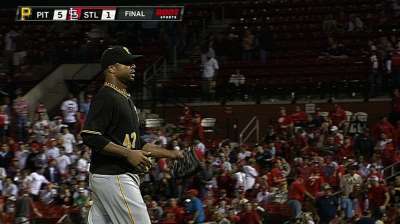 ST. LOUIS -- As followers of the Pirates know, manager Clint Hurdle is fond of proclaiming following tough losses -- as his way of saying they are good at turning the page -- that his players "shower well."
They must have used a fire truck grade hose to wash off the last loss. Recovering from Tuesday's 14-inning dagger had to be hard -- but that's exactly the feat the Bucs turned, stopping the Cardinals, 5-1, Wednesday night to keep 40,644 quiet in Busch Stadium.
"News flash: Pittsburgh is pretty good," Cardinals third baseman David Freese said after the series got squared. "We'll just try to win the series."
Depending on whether the Cardinals are able to swing that, the Bucs will return home for the weekend with a division lead of either two or four games.
There were many hands on that fire hose as the Pirates reset their NL Central lead at three games over St. Louis. Pedro Alvarez and Garrett Jones hit solo homers in the second off Shelby Miller. Starling Marte, who was hurting after his dropped fly contributed to Tuesday's loss, later put the hurt on the Cards with a two-run double grounded up the middle.
The star, however, was Francisco Liriano, who turned a huge personal page. Five days after his worst career game in Colorado, Liriano tendered what could be called his Salute to A.J. Burnett Game.
Putting his 12-hit, 10-run, 2 1/3-inning Denver debacle in the rearview mirror, the left-hander went the route on a four-hitter, with one walk and six strikeouts.
"A great feeling, after that, my worst game," Liriano said. "I just wanted to keep hitting my spots and go deep, and thank God everything went my way. I kept hitting my spots and let guys make plays behind me."
How well did he execute the plan? He needed only 94 pitches for his second complete game of the season, and third of his career. Here's your benchmark on the new Liriano: He improved his record to 13-5 one year after he needed 76 pitches to get through 3 1/3 innings while pitching for the White Sox against Oakland.
Wednesday night, no runner advanced past first against Liriano until the ninth, when Matt Carpenter doubled with one away and moved to third on a wild pitch before scoring on an infield grounder to spoil what would have been Liriano's second career shutout.
"We needed to put last night's game behind us," Liriano said.
You can call him a stopper ... except, he was also the starter: His glitch against the Rockies began the four-game losing streak he ended.
Burnett will face the Cardinals in Thursday afternoon's series finale, taking the very Busch Stadium mound atop which he allowed a dozen runs in 2 2/3 innings early last season. Thereafter, the Bucs won his next 12 starts -- a sequence which, in Hurdle's view, presented Liriano "a beautiful footprint to follow."
"Did he ever ... that was masterful, from start to finish," Hurdle said. "The Mulligan. Talk about pitch efficiency ... one walk [to Allen Craig in the seventh] and only one other three-ball count [to pinch-hitter Rob Johnson in the ninth], he minimized the barrel, 16 batters retired on three pitches or less. Outstanding. Outstanding."
Hurdle talked about Liriano also having swing-and-miss stuff. The lefty even had reach-and-miss stuff. Catcher Tony Sanchez had to consistently go 2-3 on his strikeouts, retrieving balls and throwing to first to make the outs official.
"Heck, yes," the rookie catcher said when asked if Liriano's pitches were moving so much he couldn't even glove them. "Those balls were in the dirt, with the movement to get guys to chase them. They start in the zone, and the movement the last two feet on that slider -- got a lot of swings and misses, and you don't see a lot of that in the big leagues."
Alvarez had taken Tuesday "off" -- his only hit in 14 innings had been an infield single -- but resumed his abuse of St. Louis pitchers with his solo shot. His 29th of the season, tying Arizona's Paul Goldschmidt for the National League lead, was also his ninth against the Cardinals the last two years.
Jones connected later in the inning, giving the game an uneasy "Groundhog Day" feeling, since the Pirates had also grabbed an early lead Tuesday on a pair of homers, then went quiet.
Those concerns were rallied away in the fourth, when the Bucs added on with Sanchez's RBI single and Marte's legging out a double for two more runs and a 5-0 lead.
Marte rolled his ball between shortstop Pete Kozma and the second-base bag, and he didn't hesitate rounding first when center fielder Jon Jay had to charge in for it.
"I wasn't thinking double at first, but when I saw the outfielder playing deep, I thought I had a good chance," Marte said.
"I've been fortunate to play with some very electric players who could do some things, and that's what he is," Hurdle said of Marte.
No one on this night was more electric than the guy on the hill.
"That's as good as you're going to see," said Freese. "He was commanding both sides, threw what he wanted to throw when he wanted to throw it. You saw the confidence out there in him."
Miller lasted six innings, and saw his record dip to 11-8 as he allowed eight hits and five runs -- only three of them earned due to an error by Freese that contributed to the three-run fourth -- while walking two and striking out five.
Tom Singer is a reporter for MLB.com and writes an MLBlog Change for a Nickel. He can also be found on Twitter @Tom_Singer. This story was not subject to the approval of Major League Baseball or its clubs.