Cards dealt setback in quiet loss to Pirates
Cards dealt setback in quiet loss to Pirates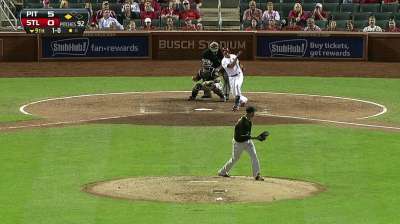 ST. LOUIS -- The Cardinals returned to Busch Stadium on Wednesday night, anticipating an opportunity to ride the coattails of Tuesday's dramatic high.
"That momentum, both the positives for us and the negatives for those guys, is huge," Matt Carpenter said, before the start of the series' middle game. "To lose a tough game like that, it can sometimes be kind of a letdown and can cause certain things. Winning a big game like that can definitely get something started for us."
But there would be no continuance. Instead, the Cardinals responded with a thud.
That had much to do with Pittsburgh's Francisco Liriano, who led an inspired Pirates team to a 5-1 rebound win in front of 40,644 fans. Providing a three-game lead in the National League Central, the victory ensures the Pirates of leaving town alone in first place and allowed the Reds to creep within a half-game of the Cardinals for top Wild Card positioning. The Cardinals have won just six of their last 20 games. Five of the losses during that stretch have come against the Pirates.
"News flash," David Freese said afterward. "Pittsburgh is pretty good."
Wednesday's loss exposed several of the shortcomings that have plagued this team during its lulls. The offense was stalled not just by Liriano, but by hitting into three double plays and showing no sparks of power. Holes in the defense allowed the Pirates to pad their lead to a comfortable cushion in the middle innings. And while the Cardinals received a serviceable start from Shelby Miller, it was another less-than-dominant one from a rotation that needed to pick up its bullpen.
For a team trying to scratch away at the Pirates' division lead, it would be no way of ensuring sustained momentum.
"The night that you go out there with a good approach and you can't get much going, you try to remember what was going the night before and get it going the next day," manager Mike Matheny said. "We don't like going too far down that road always tipping the cap, but when a guy throws the ball real well, we can't do much about it either in the field or pitching-wise to stop them."
Liriano followed up his one-run, seven-inning win over the Cardinals two weeks ago with the third complete game of his career. The consensus in the clubhouse afterward was that his pitches were even tougher to pick up this time around. He had an effective fastball to complement his superb slider and changeup. And he was around the plate enough -- yet hardly over it -- to induce regular early contact.
The Cardinals did not advance a runner to second until Carpenter doubled in the ninth. Just two outs were recorded in the outfield. Liriano struck out six, allowed four hits and needed only 94 pitches to do it all. Carpenter's double, a wild pitch and a groundout were all that kept him from the shutout.
"We needed to put last night's game behind us," Liriano said. "I didn't try to be someone I'm not, didn't try to overthrow. I was just worried about winning the game."
"That was masterful from start to finish," added Pirates manager Clint Hurdle. "It's what you look for out of a veteran guy who has become a mainstay of your rotation."
Double plays helped his cause, too. Matt Holliday, who has the dubious distinction of leading the Majors in that category, hit into two. Freese grounded into the other. All three came in innings when the Cardinals' leadoff hitter reached. The Cardinals have grounded into a Major League-high 118 this season.
A double play not turned on the other end compounded issues behind Miller, who entered the night having thrown just two pitches in the last 11 days. He showed no ill effects from being knocked out of his start last Wednesday when hit by a line drive, but he was hurt by a few mistake pitches early.
Solo homers by Pedro Alvarez and Garrett Jones staked the Pirates to a 2-0, second-inning lead. Pittsburgh then pulled away with three runs in the fourth.
Neil Walker reached when Holliday, playing with a mild ankle sprain, couldn't run down a shallow fly ball in left. A chance to turn two was then muffed when Freese couldn't corral a one-hop grounder to third.
"You can't let that happen," Freese said. "It just kicked. That was a tough blow."
Tony Sanchez (single) and Starling Marte (two-run double) snuck RBI hits past diving infielders to finish the piling on by Pittsburgh.
"They were putting the ball over right where the players weren't," Miller said. "You have [shortstop Pete] Kozma and [second baseman] Carpenter and all the guys diving everywhere and they're barely missing it. It was a tough ballgame for us."
Miller managed to finish six innings, throwing 112 pitches and allowing a season-high eight hits. The Cardinals have not had a starter allow two or fewer runs in six or more innings now since Aug. 4.
The night's bright spot came once the game was already seemingly determined. Pitching in relief for the first time as a Major Leaguer, Michael Wacha struck out four in two scoreless innings. Randy Choate struck out the side in the ninth. Each of the five relievers used in Tuesday's 14-inning marathon were able to get a day to rest.
If the Cardinals want to capture their first season victory over the Pirates (in four tries), it now requires a win on Thursday.
"If you can take a positive out of it, you can say that the guy just was on," Carpenter said. "It's just one thing to come in here and say we lost the game because we didn't play well or we had a ton of pitches to hit and we didn't do our job when we had baserunners and left them in scoring position, that kind of thing. I mean, this guy, he was nasty tonight. He pitched great. Tip your cap and move on."
Jenifer Langosch is a reporter for MLB.com. Read her blog, By Gosh, It's Langosch, and follow her on Twitter @LangoschMLB. This story was not subject to the approval of Major League Baseball or its clubs.