Unearned runs sink Royals in rare series loss
Unearned runs sink Royals in rare series loss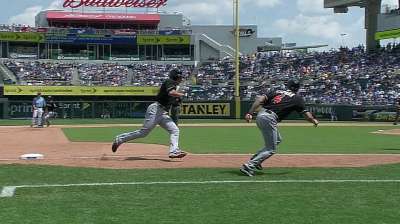 KANSAS CITY -- This surely wasn't how the Royals envisioned this series against the team with the worst record in the National League. Not losing two out of three games.
Yet that's what happened as the Marlins cooled off the heretofore sizzling Kansas City club, 5-2, in Interleague Play on Wednesday afternoon at Kauffman Stadium.
The Royals had won seven straight series since the All-Star break. And when they beat the Fish in the series opener, it was 17 wins in a 20-game span for the Royals.
Now they have to head off to their important five-game series in Detroit with this disappointment on their minds. Manager Ned Yost, though, believes his Royals can shake it off.
"It's a young club. We're not going to have any problems, confidence-wise. I think they feel good about themselves," Yost said. "They know it's a big series and we've played well against Detroit all year long and they're anxious to get in there and see what happens."
This loss turned on an error by third baseman Elliot Johnson, filling in for injured Mike Moustakas, in the Marlins' seventh inning. Royals starter Ervin Santana turned a 2-1 lead over to Tim Collins, and Koyie Hill led off with a double to left field.
Christian Yelich bounced a spinning ball toward the charging Johnson, and he missed it for an error. The play ended with two runners in scoring position.
"Just your classic squibber, and I let the ball play me a little bit," Johnson said. "I kind of froze on it, wasn't sure what to do. Right on the last hop when it got to me, it kicked right and I didn't have time to react to it. If I attack the ball, then I make the play, it's routine and we probably get the win."
Yost went to Johnson's defense.
"It was a cue-ball shot with a lot of English, a lot of spin on it. It hit-hit, boom, then stayed down on him," Yost said. "But it did change the whole complexion of the inning. Instead of having a runner on second base and one out, now we've got second and third. We've got to play back and concede the run with no outs."
Donovan Solano, the next batter, hit a ground ball to second baseman Chris Getz. He was playing back and took the out at first base as Hill scored for a 2-2 tie.
"They did a nice job of hitting the ball to Getz to get the one run in," Yost said. "Then we brought the infield in and they did a nice job of hitting slow enough so we couldn't get the play at the plate."
That's when Logan Morrison's tap was fielded by drawn-in first baseman Eric Hosmer, whose only play was to tag Morrison. Meanwhile, Yelich had plenty of time to scoot across the plate for a 3-2 Marlins lead.
The Royals' only two runs came against starter Jacob Turner, who walked six in his five innings, but gave up just four hits. Two of them -- Hosmer's double and Salvador Perez's single -- produced a first-inning run. The Royals added an unearned run in the fourth without benefit of a hit.
For the afternoon, the Royals were out-hit, 12-5, but left 11 runners on base and were just 1-for-9 with runners in scoring position.
"The way we had runners on base all day, we should have put up a lot more runs," Hosmer said. "It's a tough one to swallow, but at the same time, we have to look ahead. We've got five games in Detroit, we can make up some serious ground, there's a lot of time."
The Marlins' only run off Santana came in the fourth, but it could've been worse except for shortstop Alcides Escobar. With runners at first and second with one out, Johnson charged in from third base and missed Jake Marisnick's roller, which was ruled a hit. Escobar, alertly backing up Johnson, snatched the ball and fired home in time to catch Greg Dobbs trying to score from second base.
Justin Ruggiano followed with an RBI single up the middle. That was his second straight hit -- quite a streak for Ruggiano. In the second inning, his grounder eluded Escobar for a single -- Ruggiano's first hit after 42 consecutive at-bats without one. He was just three at-bats from tying the record for the longest hitless skid in a Major League season, 0-for-45 by Brooklyn's Bill Bergen in 1909 and Milwaukee's Craig Counsell in 2011.
Now, by the way, the ill-fated Johnson is approaching a Ruggiano-like drought. Johnson is in a 0-for-31 swoon after going hitless on Wednesday.
The Marlins added two runs in the ninth against Luke Hochevar. Ruggiano got his third hit -- he's on a roll -- and was bunted to second. After an intentional walk to Yelich, Solano and Morrison each stroked RBI singles to right.
The Royals stirred the crowd of 17,760 when, after closer Steve Cishek got two outs in the ninth, Hosmer doubled and Billy Butler walked. But Cishek fanned Alex Gordon to end it.
"We took our walks, but I feel like we could have been more patient in areas," Butler said. "We had a lot of chances to put that game away early, and we just didn't do it. You let a team like that hang around, and that's the kind of stuff that happens. It's tough for the homestand to end on that note, but it's still a winning homestand."
Indeed, the Royals were 6-4 against Minnesota (2-1), Boston (3-1) and Miami (1-2). But they couldn't follow up their big coup against the American League's top-winning team, the Red Sox, with success against the NL's biggest losers.
"They came in and played good baseball. They pitched well and had a lot of timely hitting," Hochevar said. "They played good, but we just flush it and move on and get ready for the next series."
Five games at Detroit, the team the Royals trail by 7 1/2.
Dick Kaegel is a reporter for MLB.com. This story was not subject to the approval of Major League Baseball or its clubs.