Marlins make most of miscue, rally to top Royals
Marlins make most of miscue, rally to top Royals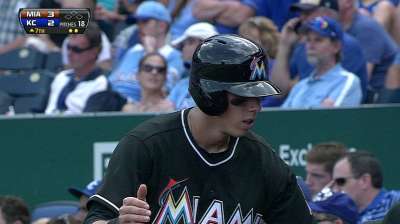 KANSAS CITY -- On a day when everything didn't go smoothly, the Marlins simply pulled together, caught a huge break and found a way to win.
Offensively challenged all year, Miami came from behind in the seventh inning Wednesday and snatched a 5-2 victory away from a Royals team that has aspirations of making the playoffs. It was a small but firm step that gave Miami two of three in the series and made the plane ride home from a 3-6 road trip thoroughly enjoyable.
Logan Morrison, playing in the city where he was born, put the Marlins ahead, 3-2, in the seventh by battling left-hander Tim Collins for an RBI groundout to cap a two-run, go-ahead rally. Morrison later added an RBI single in the ninth to make it more comfortable for closer Steve Cishek. Throw in the camaraderie generated by Justin Ruggiano's slump-breaking 3-for-4 day, and it all added up to the kind of team win that a young ballclub thrives on.
Once Ruggiano broke his 0-for-42 slump with a second-inning single, the Marlins were feeling good vibes.
"It was a great day for him and a big lift for us," Marlins manager Mike Redmond said. "Guys rally around a guy who has had some struggles. You saw that after he got the [first] hit. Guys were clapping and standing on the top step. Nobody likes to see a teammate have to grind that hard to try and get a hit."
Ruggiano's RBI single in the fourth made it 1-1, but the Royals quickly went ahead in the fourth after shortstop Adeiny Hechavarria misplayed a double-play bouncer. That led to David Lough's RBI groundout.
But the Marlins caught their break in the seventh after Koyie Hill's leadoff double against Collins. Christian Yelich hit a grounder through the legs of third baseman Elliott Johnson, who was subbing for the injured Mike Moustakas. That left runners at second and third.
"In Elliott's defense, it was a cue-ball shot with a lot of English," Royals manager Ned Yost said. "But it did change the whole complexion of the inning."
The Royals elected not to bring their infield in and Donovan Solano contributed a productive out with an RBI bouncer to second that moved Yelich to third. With Morrison at the plate, the Royals did bring the infield in. But Morrison tapped to first baseman Eric Hosmer, who had no play at home and had to take the out at first as the lead run scored.
"They did a nice job of hitting the ball to [second] to get the one run in," Yost said. "Then we brought the infield in and [Morrison] did a nice job of hitting it slow enough that we couldn't get the play at the plate."
By handling the bat and moving runners, the Marlins put their bullpen in position to protect a lead. Dan Jennings, A.J. Ramos and Cishek blanked the Royals from the sixth inning on after starter Jacob Turner went five-plus.
Turner threw only 38 strikes in his 89 pitches. But he wiggled out of some jams and would have allowed just one run if not for the error by Hechavarria.
"[Turner] had some good movement, but it looked like he just had a tough time commanding it," Redmond said. "It was one of those days where it didn't feel great out there, but he battled. In the learning process, there are going to be days like that where you have to fight to get through five innings and give your team a chance to win."
Turner allowed only four hits, but he surrendered six walks.
"The ball was definitely moving," Turner said. "Sometimes, I felt like I didn't know which way it was going to go. I'm just proud of the team for staying in the game."
Another positive for the Marlins occurred in the ninth when they came up with a couple of tack-on runs off reliever Luke Hochevar.
"It was a tough road trip for us, but as I've said all year, this is a resilient group," Redmond said. "They keep coming back and battling. It's always good to do well against teams that are fighting to make the playoffs. You can't sleep on the Fish, that's for sure."
Robert Falkoff is an associate reporter for MLB.com. This story was not subject to the approval of Major League Baseball or its clubs.