Leading man Heyward sparks Braves' victory
Leading man Heyward sparks Braves' victory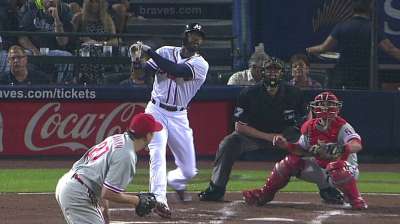 ATLANTA -- As manager Fredi Gonzalez spent most of the season's first four months evaluating which of his players might be most productive in the leadoff spot, he was hesitant to move Jason Heyward there. But since doing so, he has had no reason for regret.
Heyward's first career leadoff home run sparked the early offensive eruption that provided Brandon Beachy some comfort and propelled the Braves to Wednesday night's 6-3 win over the Phillies at Turner Field.
"I don't even realize I'm hitting leadoff right now," Heyward said. "I'm just playing baseball, trying to do it well, trying to do it smart. Keep progressing, keep getting better in situations and keep getting good pitches to hit and not missing those. It's going well."
With Heyward providing a pair of extra-base hits in the first two innings and Chris Johnson capping a three-run second with the latest of his clutch two-out hits, the Braves cruised toward their 17th win in their past 19 games and maintained their 14-game lead over the Nationals in the National League East.
On the way to winning their sixth consecutive series, the Braves waited through rain delays of exactly one hour and 48 minutes before the first and final games of this three-game set.
"It's nice to put a run up early and give Beachy a lead right there early on, let him do what he did," Heyward said. "He threw really well tonight."
The consistent offensive production the Braves have generated over the past few weeks has been significantly influenced by Heyward, who has batted .382 with a .455 on-base percentage in the 18 games played since moving into the leadoff spot. Andrelton Simmons produced a .259 on-base percentage in the 62 games in which he assumed the leadoff role.
In addition to finding a more suitable role for Simmons, the decision to move Heyward up a spot in the lineup was influenced by the decision to also move both Justin Upton and Freddie Freeman up one spot. Since moving into the two-hole, Upton has batted .386 with a 1.198 OPS.
"Maybe I'm kind of dumb for waiting this long," Gonzalez said. "Have you ever thought that way? I'm sure there are people thinking, 'Why did you wait this long to do this?'"
When the Braves began their impressive run, Beachy was a few days away from taking his lumps during his first start back from Tommy John surgery. At the time there was reason to wonder how dependable he might be down the stretch. But while working at least six innings and compiling a 2.21 ERA in the three starts that have followed, the 26-year-old right-hander has quieted his doubters.
"Each time I feel like I've moved a little bit in the right direction," said Beachy.
Riding the momentum created when he tossed eight scoreless innings against the Marlins on Friday, Beachy limited to Phillies to six hits, three of which were produced by Domonic Brown, in six innings. The only two runs he allowed came courtesy of Brown's two-run homer in the sixth inning.
Unlike in his previous three outings, Beachy was able to throw his slider with at least a portion of the confidence he did before the surgery, when the pitch was so effective for him.
"I'm a better pitcher when I have [the slider]," he said. "I'm a better pitcher when I can throw my curveball for strikes and when my changeup is good. When I can have all four of those effective and [the batters] have to think about them, all that does is make my fastball better."
Brown's home run simply dented the five-run advantage the Braves had gained by the end of the second inning. After beginning the game with his 11th homer of the season, Heyward fueled the three-run second inning with a double that followed the six-pitch walk Beachy drew against John Lannan.
After walking Justin Upton to load the bases, Lannan exited with an injury to his left knee. That provided an unenviable challenge for Zach Miner, who promptly allowed Freeman to produce a sacrifice fly that came within a few feet of being his first career grand slam.
Johnson produced a sacrifice fly in the first inning and capped the second inning with the two-out, two-run single to center field. On the way to producing an NL-leading .337 average, Johnson has batted .395 with two outs and runners in scoring position.
"[Johnson] does it," Gonzalez said. "He comes up big."
Mark Bowman is a reporter for MLB.com. This story was not subject to the approval of Major League Baseball or its clubs.