Lawrie's walk-off RBI single lifts Blue Jays in 10
Lawrie's walk-off RBI single lifts Blue Jays in 10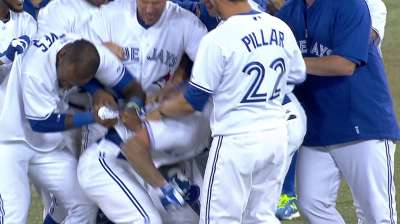 TORONTO -- Brett Lawrie made sure Esmil Rogers had something to smile about on his 28th birthday.
After Brett Cecil blew a two-run lead in the ninth inning, denying Rogers of his fourth victory of the season, Lawrie stroked a single off the glove of Boston shortstop Stephen Drew to score Rajai Davis in the 10th, as the Blue Jays defeated the Red Sox, 4-3, at Rogers Centre on Wednesday.
With Casey Janssen unavailable after pitching in three of the last four games, Cecil entered in the ninth with a save opportunity as the team's fill-in closer.
But like it has been for much of the past week, the overworked bullpen sprung yet another leak. With the Red Sox down to their final out, Mike Napoli stroked an 0-1 hanging sinker in the middle of the plate from Cecil over the wall in right field to tie the game at 3.
For Cecil it was his second blown save of the season, and raised his post-All-Star break ERA to 7.45. It also marked the eighth straight game in which the Toronto bullpen has allowed at least a run.
In a reversal of fortune, it was the offense that picked up the tired bullpen with Lawrie's game-winning single.
"We have to pick them up every now and then, because they pick us up all the time," Lawrie said.
Lawrie came to the plate in the 10th with Davis on third thanks to a pair of aggressive plays. Davis hit what should have been a single to center fielder Jacoby Ellsbury, but managed to take a second base with his speed and Ellsbury moving away from the bag slightly. Davis then took third on Jose Bautista's grounder to Drew.
For the second straight night in a tough spot late in the game, Red Sox manager John Farrell decided to intentionally walk a batter to face Lawrie. After reliever Brandon Workman had the Blue Jays third baseman in a 1-2 count on three straight fastballs, Lawrie stung a curveball to give his team its sixth walk-off victory.
"I was just looking to put it in play, because I knew who was on third base," Lawrie said. "Any ball you put in play you know he has a chance to score. Late in my at-bat there I was looking curveball that last pitch. I figured he wouldn't try to sneak anything by me or whatnot. Just give it a chance to put it in play. I choked up a bit and just tried to put it in a play, and ended up stinging it better than I thought I was going to."
With each team providing some late-inning dramatics, it ended up costing Rogers his fourth victory of the season.
Rogers was moved to the bullpen a couple days ago after a series of tough outings, but was forced into an emergency start with Josh Johnson being placed on the disabled list with a forearm injury.
The struggling righty was 0-4 with an 8.50 ERA and a 1.97 WHIP over his last seven starts, including 20 earned runs over his previous 12 1/3 innings. On Wednesday, however, Rogers showed why the Blue Jays had stuck with him as a starter for the past six weeks.
Rogers tossed six innings of one-run ball, allowing five hits and a walk, while striking out six. He was rarely in trouble, with the only hiccup coming on a solo shot by David Ortiz in the sixth.
His most glowing accomplishment may have been the first inning. After Ellsbury reached on a strikeout and a wild pitch, Rogers walked Shane Victorino to put two men on. The right-hander put away the next three batters, two of them via the strikeout.
"The opportunity that the Blue Jays gave me this year is unbelievable," Rogers said. "I was just thinking to myself, if they gave me this opportunity I had to take [advantage] of being there for the rest of the year."
With a solid outing, it will likely mean at least one more start for the right-hander when the team travels to New York.
"We've been known to change our minds around here," Blue Jays manager John Gibbons said when asked if Rogers will go back to the bullpen. "He was sticking it, he was on the plate, he was making good pitches, he pitched well against them in Boston. He looked like that guy when he went on that nice little roll, I think it all started in Atlanta, then he got on a nice little roll and hit that road block. It all comes down to putting the ball in a good spot, he was popping it pretty good tonight too. We can't put him in the 'pen after that, can we?"
Rogers' outing made for a pitchers' duel for much of the night with Boston starter Jon Lester.
Lester managed his 13th quality start, but was his own worst enemy in the third. Davis stroked a ball right up the middle and off Lester's leg. The Boston lefty threw it wide of first base before Victorino also made a throwing error, allowing Davis to score the game's first run.
The Blue Jays tacked on a pair of runs, including a crucial statement run right after Ortiz's 23rd home run of the season, before the Red Sox crawled back.
"We continue to create opportunities, no question about it," Farrell said. "We continue to put up good at-bats and unfortunately, that two-out hit that can make the difference was elusive."
Evan Peaslee is an associate reporter for MLB.com. Follow him on Twitter at @EvanPeaslee. This story was not subject to the approval of Major League Baseball or its clubs.