Sox rally on Napoli's home run, but fall to Jays in 10
Sox rally on Napoli's home run, but fall to Jays in 10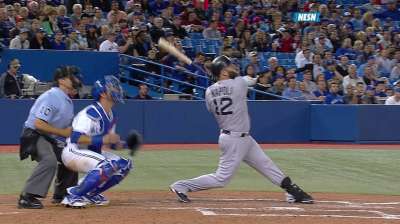 TORONTO -- The Red Sox displayed their comeback magic yet again on Wednesday night, but this time it didn't translate into a win.
Brett Lawrie's walk-off single off the glove of shortstop Stephen Drew fueled the Jays to a 4-3 victory in 10 innings at Rogers Centre.
"Just trying to get a good read because you've got a guy on third who can really run," said Drew. "Unfortunately, I thought I kind of had a bead on it and at the very end, it started taking off on me with it knuckling and it hit the very end of the web. At first, off the bat, I thought I'd be able to catch it and dive real quick, but there's no shot."
The only reason the Red Sox had a shot to play into extra innings for the second straight night is because they got another huge hit with the game hanging in the balance.
Down 3-1 with two outs in the ninth, Mike Napoli broke out of his slump with a game-tying two-run homer to right against Jays lefty Brett Cecil.
"Obviously, you'd like to win the game," said Napoli. "But I mean, it felt good to do something like that, to come through in that situation. Obviously I've been struggling a little bit. I'm going to keep grinding. I got a pitch I could drive and put a swing on it."
Before the homer, Napoli had just five hits in his last 40 at-bats, and none in his previous 16. The clutch knock came on a night he was moved down to the seventh spot in the batting order by manager John Farrell.
"Encouraging," said Farrell. "Certainly what he's been going through of late, to come up in a key spot to tie it down to the last out, you know, as we said before the game, he's streaky, we know it. We have to ride it with him and he came up big in the moment."
But the Blue Jays didn't get deflated.
The winning rally against reliever Brandon Workman was sparked by a leadoff double into the gap in left-center by Rajai Davis. Jose Bautista followed with a tapper to short, and the only play Drew had was to first. With Davis on third and one out, the Red Sox issued an intentional walk to Edwin Encarnacion
That set up Lawrie to be the hero, and he slapped it just hard enough to tick off Drew's glove.
"We get a ball that's kind of squared up a little bit that's probably knuckling a little bit on Stephen and goes off his glove for the difference in this one," said Farrell.
With the loss, the Red Sox saw their lead in the American League East slimmed to three games by the Rays.
Jon Lester's worst misfire on Wednesday night came on a fielding play. In the third, when a grounder by Davis hit Lester off the leg, the lefty then recovered and tried to scoop the ball to first baseman Napoli.
Instead, the ball rolled down the right-field line where Shane Victorino picked it up. One of Boston's best fielders all season, Victorino made a rare gaffe, as his throw hit Davis, who roared all the way around to score the first run of the game.
The play was ruled as an infield single, with errors on Lester and Victorino.
"Obviously his speed makes you rush a little bit," said Lester. "For me it was just kind of like an all-out play, I've got to sell out to try to get him. Not knowing where the ball is and obviously not trying to throw the ball down the line. It would have been nice to keep him on third right there and the ball takes a bad hop."
Over 6 1/3 innings, Lester gave up six hits and three runs, two of them earned.
"I thought Jon, he gave us a solid six-plus innings of work," Farrell said. "He did his job tonight."
Encarnacion got the Jays started with a leadoff double in the fourth. He scored on a line-drive double by Mark DeRosa to make it 2-0.
David Ortiz got one of the runs back when he lined home run No. 23 on the season over the wall in right-center with one out in the sixth.
But with two outs in the bottom of the sixth, the Jays got that run back when J.P. Arencibia hit an RBI double off the base of the wall in left.
Lester made a fielding error to open the seventh, but that one wound up being inconsequential.
"I don't think really anybody in this clubhouse ever feels like we're out of a game," said Lester. "I feel like we've always got that opportunity as long as the pitchers keep us within reach. We were able to do that and Work comes in and does a great job and now we got a two-run homer to tie the game in the ninth."
Ian Browne is a reporter for MLB.com. Read his blog, Brownie Points, and follow him on Twitter @IanMBrowne. This story was not subject to the approval of Major League Baseball or its clubs.