Defense aids De La Rosa's daylight dominance
Defense aids De La Rosa's daylight dominance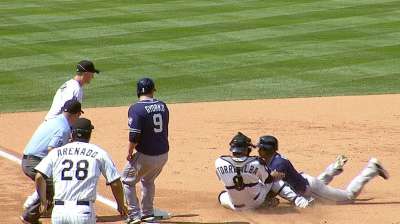 DENVER -- Jorge De La Rosa finished the sixth inning knowing one thing: he owed his catcher a meal. But that was a concession he was more than willing to make after Yorvit Torrealba made a game-saving defensive play in the Rockies' 4-2 win over the Padres at Coors Field on Wednesday.
With no outs and runners on first and third in the sixth, it appeared De La Rosa's afternoon would take a fateful turn. But Torrealba turned a double play impressive enough to bring a powerful roar from the crowd of 30,099.
Logan Forsythe knocked a slow chopper toward third baseman Nolan Arenado, and Jedd Gyorko took off for home. Arenado opted to throw home, and Torrealba caught Gyorko in a run-down and tagged him out near third.
But Jesus Guzman, who was at first, attempted to take third as the run-down unfolded, and Torrealba slid through the dirt to block him from third and apply the tag to turn the rare 5-2 double play.
Both Rockies manager Walt Weiss and Torrelba recognized it as the play of the game, but the veteran catcher explained it as the natural response to years of practice.
"I did a fake throw to Nolan, and then that's why the runner kind of stopped so that I could tag him and then went to the other guy," said Torrealba, who could not recall ever completing a similar double play.
"It was just reaction."
That play kept De La Rosa's afternoon alive, as he went seven innings, allowing two runs, striking out six and walking just one. The southpaw improved to 6-0 with a 1.58 ERA in day games.
"I owe him a dinner, I think," De La Rosa said.
Gyorko said he made the correct move to run on the hit and simply did not keep the run-down alive long enough.
"It was one of those plays where I've got to stay in the rundown," Gyorko said. "[Torrealba] ran it to perfection. It was the right play but the wrong outcome."
The victory improved the Rockies to 5-1 on the homestand and gave them their second straight series win. They start another 10-game road trip in Baltimore on Friday, hoping for a vast improvement on their 1-9 trip to open the month.
The Rockies broke out of a 1-1 tie in the third behind the red-hot bat of left fielder Corey Dickerson, who launched his second triple in as many games into deep left-center beyond the glove of a diving Will Venable to score Dexter Fowler.
Troy Tulowitzki followed with an RBI single that rolled through the heart of the infield to make it 3-1 Rockies.
Earlier, Colorado had scored in the first inning for the third consecutive game. Dickerson used his speed to double on a ball that dropped in the shallowest part of left field, and Tulowitzki sent a ball to deep left that Forsythe had in his glove before dropping it as he crashed into the wall, allowing Dickerson to score.
Dickerson plated the Rockies' fourth and final run in the eighth when he blooped a ball into a similar spot in left field to score Fowler from third.
Dickerson finished 3-for-4 and drove home two runs and is now hitting. 400 with six RBIs since his second callup, in late July. Twelve of his 25 hits this season have been for extra-bases.
"The last few days I have felt really comfortable, feel like I'm swinging really well and seeing it well," Dickerson said. "Just keep doing what I'm doing, playing hard and the at-bats will come."
Colorado's offense never erupted as in recent games, but timely hitting was sufficient to spoil a start from Padres starter Andrew Cashner (8-7) that nearly matched De La Rosa's outing. Cashner allowed six hits and three runs over seven innings and struck out seven.
Though the Padres never led Wednesday's game, they did slowly chip away at De La Rosa. Chris Denorfia drove an RBI single into right in the third to score Ronny Cedeno, who led off with a single.
Guzman drove in San Diego's only other run when he lifted a single into right in the fourth to plate Gyorko, who had reached on a double, which was less damage than he did belting a home run in each of the last two games.
Matt Belisle and Rex Brothers combined for two perfect innings to close the game, Brothers nabbing his 11th save and continuing to build a case to remain the closer when Rafael Betancourt returns.
On a day where most things went right for the Rockies, it had Weiss longing for one thing -- that this run had come sooner, before the Dodgers commandeered the National League West.
"Coming off that road trip, we need to turn things around quickly, and real proud of the way the guys have played on this homestand and have turned it around," Weiss said. "I wish we could've done it a little bit sooner, but it was a tough road trip."
Ian McCue is an associate reporter for MLB.com. This story was not subject to the approval of Major League Baseball or its clubs.