Moore opts to delay return to Rays' rotation
Moore opts to delay return to Rays' rotation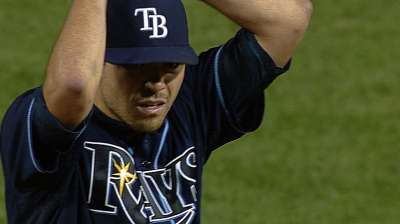 ST. PETERSBURG -- Rays pitcher Matt Moore will not return to the starting rotation on Saturday as he remains on the 15-day disabled list with a sore muscle in his left elbow.
Moore previously said he would pitch this weekend against the Blue Jays "in a perfect world" but decided, along with trainers, that his arm needs more time to heal after throwing a 55-pitch bullpen session on Wednesday. Moore will not throw again until Sunday.
"I felt good, but good isn't great and good isn't 100 percent," Moore said. "We're looking to be 100 percent. There are still a few things in doubt that we're not comfortable with. We're just going to give it a couple more days and see where we're at."
Since aggravating the muscle in a July 28 loss to the Yankees, Moore has maintained it only bothers him when throwing changeups.
The delay is not considered to be a setback in recovery.
"We're talking a very little bit, but enough to that we want to make sure it's not something I have to be shut down again for if I go back out there," Moore said. "It's kind of like picking a scab. It's great until I pick that scab once and then it turns into my arm not feeling 100 percent."
While he feels better, Moore does not have a target date for his return.
"The progress we have made is substantial. There's just a little more to go."
Sam Strong is an associate reporter for MLB.com. This story was not subject to the approval of Major League Baseball or its clubs.