Hot-hitting Dickerson developing in outfield
Hot-hitting Dickerson developing in outfield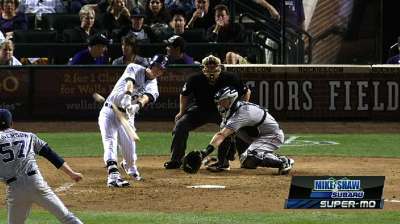 DENVER -- Few have questioned Corey Dickerson's immense offensive talent.
Dickerson's power was never more evident than Tuesday night, when he ripped a two-out, broken-bat triple all the way to the base of the right-field wall in the eighth inning. Before that, he tore up Triple-A Colorado Springs, leading the Pacific Coast League in several offensive categories after hitting .371 with 11 homers and 50 RBIs in 75 games.
But the outfielder's defense has always been a much bigger question mark. Manager Walt Weiss said Dickerson had concentrated on improving in outfield, and the results are showing.
"I think a lot of it's just experience," Weiss said. "He was originally an infielder, so I think just putting the time in out there -- he works at all three spots, so he's probably getting more comfortable with angles and reads and that type of thing.
"[He] has worked on his throwing real hard. He's put a lot of work into it."
Though it does not account for balls he may not get to that stronger defensive outfielders like Dexter Fowler or Carlos Gonzalez might reach, Dickerson has not committed an error in 17 games spread across all three outfield spots.
Dickerson, who hit third for the fourth time in his career Wednesday, has taken off offensively since he returned to the big leagues on July 27. Since that date, he is batting .366 with two home runs, two doubles, a triple, four RBIs and seven runs in just 17 games.
"It's tough for a young player to come up here and play occasionally," Weiss said. "That's what he's doing right now, but he's making the most of his playing time, and it looks like he's figuring out some things with that pinch-hit role."
Ian McCue is an associate reporter for MLB.com. This story was not subject to the approval of Major League Baseball or its clubs.