Farquhar looking like Mariners' saving grace
Farquhar looking like Mariners' saving grace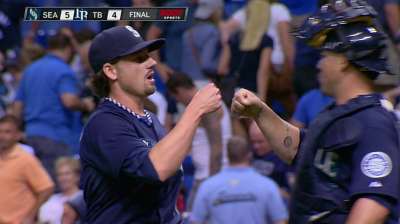 ST. PETERSBURG -- Of all the developments with the Mariners this season, the biggest surprise might be the emergence of Danny Farquhar as the team's closer.
Since Tom Wilhelmsen was demoted two weeks ago, the 5-foot-9 Farquhar has stepped into the void in near-perfect fashion and acting manager Robby Thompson finally is conceding the job belongs for now to the 26-year-old Florida native.
Though Thompson originally said the Mariners would fill the ninth-inning role with several candidates on a matchup basis, Farquhar, prior to Wednesday, had gotten the ball in all five save situations since Wilhelmsen's departure, with outstanding results. Farquhar notched the five saves while allowing just two hits with no walks and eight strikeouts in 5 1/3 innings.
That run ended on Wednesday night when he allowed a walk and four hits without getting an out as the Rays rallied for a 5-4 walk-off win.
Though his ERA stands at 5.17 in 28 appearances this rookie season, even after Wednesday's blowup, Farquhar has surrendered just eight hits and two runs in his last 14 2/3 innings with five walks and 22 strikeouts. He ranks third among American League relievers with 13.62 strikeouts per nine innings pitched (58 strikeouts in 38 1/3 innings).
Farquhar, acquired in the Ichiro Suzuki trade with the Yankees last year, said the turning point came July 28 in Minnesota when he struck out five in two perfect innings of relief as he began pitching more inside and feeling comfortable setting up hitters with his fastball, cutter, curve combinations.
"I would say my confidence really started getting going after the Twins game," he said. "Way back, I was throwing the ball really well there and I'm just building on that. I think that's how I got myself in the closer's role, just by throwing the ball well and having the confidence. I'm just rolling with that."
Farquhar showed his arsenal to the Rays while slamming the door on Tuesday's 5-4 win with a perfect ninth. He struck out Ben Zobrist looking with a 95-mph heater, then froze Matt Joyce on a 76-mph curve before getting Evan Longoria to fly out.
"Being able to throw three pitches in there for strikes, they're good little weapons to have," he said. "I enjoy it and it definitely keeps hitters off balance, having three instead of two."
The offspeed pitch to Joyce was a thing of beauty, leaving the Rays outfielder watching helplessly after setting himself for a full-count fastball.
"I shook two or three times to it," Farquhar said. "It was the one that felt good in my hand. He was sitting on something hard and I knew I just needed to flip something in there right down the middle, and he'd just take it at that point."
Farquhar has been a closer in the Minors, but never had a save opportunity in the Majors until Aug. 3 against the Orioles. He hasn't flinched since.
"Closing in the Minor Leagues is not the same as up here," Thompson said. "It's very difficult to get those final three outs. It takes a special guy on the mound, with a different mentality. So far, he's proven that he's capable of being out there as closer. He's kind of got what it takes. We'll see if he runs with it and what he can do with it. But so far, so good."
Greg Johns is a reporter for MLB.com. Follow him on Twitter @GregJohnsMLB as well as his Mariners Musings blog. This story was not subject to the approval of Major League Baseball or its clubs.