Cobb remains fearless about return to mound
Cobb remains fearless about return to mound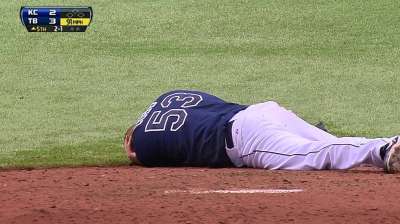 ST. PETERSBURG -- Rays pitcher Alex Cobb's last trip to the mound at Tropicana Field could have resulted in the end of his baseball career when he took a line drive to the head off the bat of Kansas City's Eric Hosmer on June 15.
Cobb will return with no fear to the same mound on Thursday when he faces the Mariners in his first start since the injury.
"I have played this game my whole life and there have been more good memories than the one incident that happened," Cobb said.
After doctors ruled out bleeding in his brain or a skull fracture on the night of the injury, Cobb never had a doubt that he would return to the mound.
Although Cobb unrealistically wanted to make his very next scheduled start, he still beat the timeline given to him by medical professionals. The right-hander was stuck at home immediately following the injury because of balance issues related to fluid trapped in his inner ear, but he tried not to let the emotional side of the process derail his progress.
"You could have that [negative] outlook on anything," Cobb said. "If you let it bring you down and affect the way you live, it beat you. You have to beat the situation and just be happy to be back."
Cobb has conducted interviews since beginning a rehab assignment on July 23. Few of the questions posed to him have related to his pitching.
"I'm tired of this," Cobb said. "I'm tired of hearing it, seeing it, answering questions. Hopefully on Thursday, I'll get it all behind me."
Sam Strong is an associate reporter for MLB.com. This story was not subject to the approval of Major League Baseball or its clubs.