Rusin shows worth, but bats can't get to Arroyo
Rusin shows worth, but bats can't get to Arroyo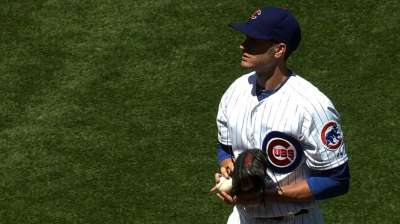 CHICAGO -- Chris Rusin showed why the Cubs want to keep him in the rotation for the rest of the season. Bronson Arroyo showed why the Reds may be headed to the playoffs.
Todd Frazier hit a solo home run and RBI double to back Arroyo, who gave up two hits over seven innings to lead the Reds to a 5-0 victory Wednesday against the Cubs, completing a three-game sweep.
With the win, the Reds are 13-2 against the Cubs this season, including a 9-1 mark at Wrigley Field. Cincinnati has not won more than 14 games in a season against Chicago since going 14-4 in 1962. They will meet again at Great American Ball Park from Sept. 9-11.
"When you get some good pitching and timely hitting, it happens," Reds manager Dusty Baker said of taking the series. "I really enjoy coming here and winning. I enjoy winning anywhere. We didn't hear that song ["Go Cubs Go"] much here, which is a sign we played good ball."
Arroyo retired the first nine batters he faced before David DeJesus singled to lead off the fourth. But Darnell McDonald then grounded into a double play. McDonald singled with one out in the seventh, his first hit with the Cubs, as the ball deflected off second baseman Brandon Phillips' glove. Arroyo, pulled after throwing 92 pitches, struck out seven and did not walk a batter.
"A guy like 'Roy,' you need a lot of left-handers in the lineup or right-handers who have faced him," Cubs manager Dale Sveum said. "He had his stuff working, his offspeed. Arroyo keeps plugging away and he has everything -- different arm angles. If you can't stack seven, eight left-handers in that lineup, it can be tough."
Both Arroyo and Rusin rely on a variety of offspeed pitches to keep hitters off-balance.
"He's a puzzle to figure out," Rusin said of Arroyo. "He threw first-pitch offspeed to me, and I can't even hit. It just shows how many offspeed pitches you can throw for strikes."
In the first two games of the series, the Cubs went 0-for-6 with runners in scoring position. Arroyo never gave them a chance Wednesday. The only batter to reach second was DeJesus, and that wasn't until there were two out in the ninth. He was hit by a pitch and advanced because of defensive indifference. Chicago has been shut out in four of its last five home games and lost 13 of its last 17 games overall.
"Getting shut out and getting nothing going at all today, it's frustrating," Sveum said. "It's frustrating for the guys in the clubhouse, too. They're plugging away as best they can and not getting anything to show for it."
Anthony Rizzo is a perfect example. He lined out in the fourth to shortstop Zack Cozart, who had shifted to his left, and flew out to center on a well-hit ball in the seventh.
"You got to get some luck sometimes to get out of slumps and get going, you've got to find some holes," Sveum said.
"It's a constant battle right now," Rizzo said. "It's part of the game. Today, there's a lot to build off. The first at-bat strikeout, I felt was a good at-bat. I squared the ball up [in the other two at-bats], but it didn't fall.
"I hit that ball as hard as I can up the middle [in the fourth], and the shortstop was playing up the middle. That's what I want to do is hit the ball up the middle. You have to keep going with it."
The Cubs are promoting Jake Arrieta from Triple-A Iowa to start Friday against the Cardinals, and decided to keep Rusin in the rotation and move Carlos Villanueva to the bullpen. Rusin, who blanked the Cardinals over six innings in his last start, gave up three hits against the Reds and walked one over six innings. He was efficient, going to a three-ball count on only three of the 21 batters he faced.
"He did a great job against a good lineup again," Sveum said.
Frazier gave the Reds a quick 1-0 lead with his 11th home run, hitting the fourth pitch of the game from Rusin over the left-field bleachers and onto Waveland Ave.
"I didn't get it in as far as I wanted to," Rusin said of the pitch to Frazier. "Other than that, I thought I did a good job."
A candidate for the Cubs rotation next year, Rusin isn't looking past the next five days.
"I don't even think about what players could be coming up or what my role is next year or anything," Rusin said. "I just go game to game, and that's what helps me. If I put too much pressure on myself, then that's when you start making mistakes and try to be too perfect."
Sveum didn't think Villanueva was thinking about the switch in roles when he took over for Rusin in the seventh and served up a one-out double to Jay Bruce, who scored one out later on a double by Cozart. Frazier and Joey Votto each hit RBI doubles off him in the eighth.
After an off-day Thursday, the Cubs play host to the Cardinals, who also are vying for a playoff spot. It doesn't get any easier.
"We've got a lot of teams coming up and we want to spoil some of their hopes of going to the playoffs and make it interesting," Rizzo said. "We could be a big part of that and make this division interesting, especially how many times we play these teams coming up."
Carrie Muskat is a reporter for MLB.com. She writes a blog, Muskat Ramblings, and you can follow her on Twitter @CarrieMuskat. This story was not subject to the approval of Major League Baseball or its clubs.